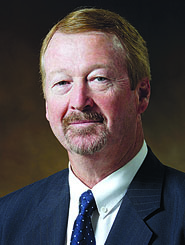 Now more than ever before, North American transportation providers are working cooperatively to develop an international intermodal network to serve the growing needs of shippers, particularly those challenged by new regulations in the U.S. trucking industry, a driver shortage, and restrictions to driver hours of service. Railroads and truckers continue to find mutually beneficial ways to take advantage of the efficiencies of rail transportation and the convenience of trucking to move long-haul truck traffic from our nation's congested highways to intermodal.
We anticipate that the U.S. rail industry will continue to improve its service and efficiency for the nation with the most fuel-efficient and environmentally friendly mode of freight transportation, railroads, through its investment in rail facilities and equipment. The investment of nearly $70 billion of private capital (not taxpayer dollars) in the rail industry during the last three years is made possible because of the balanced regulatory system in place today, which helps keep the U.S. economy competitive and provides jobs to Americans, especially returning veterans.
The U.S. rail industry has seen an almost 6 percent increase in employment in the last three years and as many as one in five of all new hires are veterans. It is very important to recognize this vital contribution that the U.S. rail industry makes to the national economy, to U.S. competitiveness, and to American jobs.
The U.S. rail industry will also continue to work in close coordination with federal regulators to further improve the safety of what is already one of America's safest modes of freight transportation — railroads. As was seen in 2013, the rail industry will initiate and coordinate with federal agencies to achieve even more improvement for safety, especially in the area of flammable shipments. Improvements to rail operating practices will continue in 2014 as tank car design, key train operational standards, and other safety improvements are worked on in cooperation between the rail industry and federal agencies.
David L. Starling is President and CEO of Kansas City Southern.