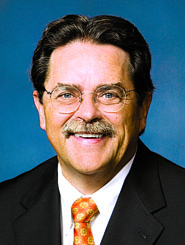 Big changes in the energy markets and growth in containerized freight are expected to extend into 2014 and beyond. Both represent terrific near- and long-term opportunities as the U.S. economy continues to expand on a slow, steady path.
On the energy front, the U.S. is now among the world's leading producers of natural gas and oil, and this has driven new rail business. That includes materials to support hydraulic fracturing and the movement of crude oil to places inaccessible by existing pipelines. In addition, lower energy costs are a factor in the potential resurgence of U.S. manufacturing.
At the same time, railroads have experienced significant declines in the transportation of coal, historically one of the industry's largest commodities. With lower cost natural gas and increased regulation, coal now supplies approximately 40 percent of U.S. electrical generation, down from more than 50 percent a few years ago.
In addition to the new energy products, intermodal traffic has helped to offset that decline, and railroads continue to make infrastructure investments to expand capacity and promote higher service levels. Investments in terminals, track capacity, locomotives, railcars, technology and other projects totaled more than $70 billion in the last three years, including $25.5 billion in 2012.
Investments of this scale can only be sustained under a balanced regulatory environment. That's why it is so important that the U.S. continue to resist attempts to re-impose significant regulations on railroads. To do so would compromise investments in critically needed transportation infrastructure, dampen job creation and reduce environmental benefits.
As railroads leverage new and traditional markets, their long-term outlook is bright as population and consumption increase, U.S. manufacturing gains competitiveness, and global trade requires the movement of products across this country in ways that are good for the economy and the environment. 
Michael Ward is Chairman, President and CEO of CSX.