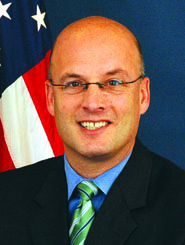 2014 brings new challenges, particularly in the area of competition. For many years, shippers have urged the Surface Transportation Board to take a more proactive role in enhancing competition, stating that it will improve service and lower rates. Railroads, in turn, have contended that disturbing the current regulatory framework would undermine their ability to earn revenues sufficient for infrastructure investments. The STB's role in this dynamic is to ensure that the nation's rail system serves all stakeholders, offering reasonable, efficient, reliable and cost-effective transportation. 
Against this backdrop, we are conducting a proceeding in EP 711 to evaluate the National Industrial Transportation League's proposed framework for granting solely served shippers access to a second rail carrier in terminal areas. Following extensive comments on the proposal, we will hold a hearing in early 2014. It is essential for the STB to ensure that we fully grasp the immediate and long-term consequences of any such changes, and, should we decide to move forward, the probable next step would be for the STB to initiate a rule-making, reflecting our analysis and the detailed comments of all stakeholders.
The board has also announced that it will seek comments on whether we should revise the safe harbor provision in our standards and procedures on reviewing complaints about fuel cost surcharges, and will seek comments on establishing new procedures on rail rate complaints filed by agricultural shippers. We also continue to monitor the meteoric rise of crude-by-rail shipments and steady growth of intermodal freight. The STB stands ready to step in, if necessary, on issues such as rates, service levels, practices and car supply.
Finally, we serve a role in the growing demand for effective passenger rail service — most notably review of California's proposed 800-mile high-speed rail network, which will eventually connect the state's urban centers. We will endeavor to ensure that freight and passenger rail can co-exist in a dynamic and efficient 21st century railroad system.
Daniel R. Elliott III is Chairman of the Surface Transportation Board.