West Coast ports back on track for growth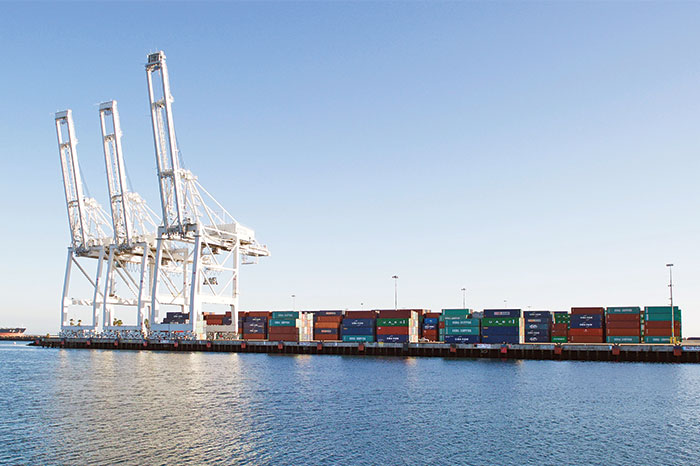 With the 2008-09 economic recession and the labor problems of 2014-15 behind them, West Coast ports see 2016 as the year they will return to their normal annual growth trend of about 5 percent.
If the recession year of 2009 is excluded, laden containers moving through West Coast ports in 2015 hit the lowest level in 10 years. West Coast ports handled 15,378,796 20-foot-equivalent container units in 2015, according to the Pacific Maritime Association. West Coast ports' container traffic beginning in 2006 exceeded last year's volume every year, except in 2009 during the global economic recession.
West Coast ports began 2015 in a mess. Work slowdowns by the International Longshore and Warehouse Union and PMA retaliation resulted in severe port congestion and cargo diversion to East and Gulf Coast ports. The double-digit decline in traffic in January and February 2015 was especially disheartening because East Coast ports experienced double-digit growth during those months, demonstrating the opportunities West Coast ports lost.
The reason for the ports' optimism this year is that growth has returned to the West Coast in a big way. The percentage increase in container traffic in the first two months of 2016 at West Coast ports greatly exceeded the percentage losses they had incurred in January and February 2015 compared to the same months in 2014.
In February, for example, container volume in Los Angeles increased 42 percent from February 2015, but traffic in February 2015 had declined by only 10.2 percent from the year before. Similarly, container volume in Long Beach in February was up 35.9 percent, compared with a 20.1 percent decline in February 2015 from February 2014. The Southern California port complex is the bellwether for the coast, because it accounts for more than 72 percent of all U.S. West Coast container volume.
Imports drive the U.S. container shipping trades, and in recent years West Coast ports handled roughly 50 percent of containerized imports, with East and Gulf Coast ports combined handling the other half. Because imports can outnumber exports by a 2-to-1 margin, carriers deploy their vessels based on the head-haul (imports) in each trade lane. Although the coastal market shares were distorted last year by the labor issues, West Coast ports see this as a pivotal year not only to regain lost market share, but also to increase their market share with the onslaught of big ships arriving on the West Coast.
Carriers and beneficial cargo owners this year say they believe labor peace has been restored to the West Coast, at least for now. Labor and management gave carriers and BCOs added cause for optimism at the 16th Annual TPM Conference on March 1 when ILWU President Jim McKenna said he would present the union with a formal letter requesting negotiations to extend the existing contract beyond the July 1, 2019, expiration date, and ILWU President Bob McEllrath said he would deliver that request to the union membership.
At the same time, carriers are expressing confidence in West Coast ports by increasing the size of the ships they are deploying. CMA CGM in May will begin to operate a weekly service from China to Los Angeles-Long Beach and Oakland with 18,000-TEU vessels, the largest ships to call in North America. Maersk Line has operated vessels with capacities of 15,000 TEUs to Southern California, and other carriers regularly operate services with 10,000- to 14,000-TEU ships.
Carriers deploy mega-ships with the intention of filling them to capacity in order to achieve the cost savings that come from economies of scale. To attract cargo, carriers have been offering low freight rates — rates that are approaching record lows in the trans-Pacific. Freight rates should increase in the second half of the year as back-to-school and holiday season merchandise contribute to growing container volumes.
East Coast ports likewise will share in the big-ship experience in the second half of the year with the opening of the third set of locks on the Panama Canal. The opening is scheduled for May. Weekly all-water services from Asia with ships up to 14,000 TEUs are expected to be phased in during the third quarter. Vessel sizes probably sill remain less than 10,000 TEUs, however, because of a clearance problem at the Bayonne Bridge in New Jersey and water depth issues in the South Atlantic.
Given those limitations, carriers don't expect to increase their net capacity significantly on all-water services from Asia to the East Coast. Rather, in the various trade lanes, they likely will replace two weekly services of smaller ships with one weekly service with ships twice the size for a net-capacity increase of zero.
Therefore, at least for the next year or two, West Coast ports believe they are poised to increase market share as more ships of 10,000 to 18,000 TEUs cascade from the Asia-Europe trades to the trans-Pacific, and capacity deployed to the East Coast increases marginally.
West Coast ports are ready to handle the larger ships in terms of infrastructure because their access channels are 50 feet or deeper and they don't have bridge clearance problems. To handle the largest class of mega-ships of 18,000 TEUs fully loaded, however, terminal operators must increase the height of their cranes to 160 feet or higher. The 18,000-TEU ships stack containers up to 10 high on deck, but existing cranes are only tall enough to work containers stacked seven high.
Ports and terminal operators also must improve their gate and landside operations, which already are stressed by 8,000- to 14,000-TEU vessels. In Southern California, those ships discharge and reload 5,000 to more than 10,000 containers per vessel call because 85 to 90 percent of the vessel contents are worked in Los Angeles-Long Beach. Container exchanges of 2,000 to 4,000 moves are more common in Oakland and the Northwest Seaport Alliance of Seattle-Tacoma.
The Seattle-Tacoma port complex was the only West Coast gateway in 2015 to experience year-over-year growth. Container traffic in Seattle-Tacoma in 2015 increased 3.7 percent over 2014, according to the PMA. Traffic declined 2.2 percent in Los Angeles-Long Beach and 4.7 percent in Oakland. The Port of Portland, Oregon, which lost most of its container business because of labor problems, experienced an 83.6 percent decline in container volume.
U.S. containerized imports in 2016 are expected to increase 5.3 percent, although exports are projected to decline slightly, according to Mario Moreno, senior economist for IHS Maritime & Trade, the IHS division of which The Journal of Commerce is part. If West Coast ports efficiently handle the larger ships coming their way, and net capacity to the East Coast doesn't increase significantly, West Coast ports should return to about 5 percent growth this year.
Contact Bill Mongelluzzo at bill.mongelluzzo@ihs.com and follow him on Twitter: @billmongelluzzo.
User login