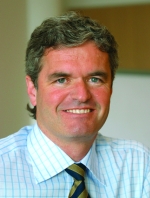 The economic environment remains challenging and volatile. We must use this time to leverage stakeholder management across the supply chain with an emphasis on increased public-private partnerships and strengthened cooperation.
Vital capital investments toward structural enhancements and upgrades in infrastructure, along with additional equipment purchases already have demonstrated value in such locations as Port Newark Container Terminal, Seagirt Marine Terminal in Baltimore and Oakland's Outer Harbor. Going forward, reduction in supply chain costs and removal of bottlenecks will be essential issues in achieving progress in seamless cargo delivery. 
Labor flexibility and adaptation to automation are key elements in our ability to provide the highest level of customer service and responsiveness to customers' evolving requirements in this increasingly dynamic environment. Optimization of land usage and equipment capacity requires application of advanced technology and close collaboration between management and labor.
We will see a focus on safety as a top priority. The industry must take seriously the safety of personnel at all levels of operations. Constant attention to detail and personal involvement by everyone is required to maintain a healthy and safe work environment.
The supply and demand environment is pressuring carriers' profitability and, thus, may ignite discussion for increased partnerships and alliances. Improved productivity, cost leadership and enhanced service delivery will be our foremost mission with our customers.
Innovative, flexible and financially sounds companies will emerge from this cycle in a stronger and more competitive position.