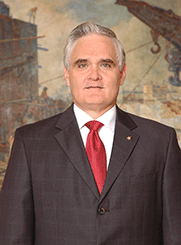 Fiscal year 2013 brought a slight decrease in Panama Canal tonnage, in part because of continuing weak demand in the United States and Europe and the general slowdown of emerging market economies. Canal traffic was also impacted by the maritime industry's shift toward larger, more energy-efficient vessels, which are unable to transit the canal until the expansion program is completed.
The world economy is poised to improve slightly in 2014 as countries implement new debt management policies and streamlined budgets help to stabilize the global financial system and to reduce overall uncertainty. Economic forecasts point at a global growth rate of around 3.3 percent, compared with the estimated rate of 2.5 percent in 2013. Nevertheless, improvement will depend on several factors, including the results of the midterm congressional elections in the U.S., decline in the unemployment rate in the U.S. and eurozone, and improving economic growth rates in Asia and across developing markets.
We foresee new challenges arising in 2014 for the maritime industry. In liner shipping, in particular, we expect more alliances between shipping groups in order to manage capacity. In addition, we anticipate that ports will press ahead with modernization and improvement projects geared toward handling larger vessels. However, to bear fruit, such capacity enhancements must go hand-in-hand with increased productivity and the availability of a well-trained labor force.
Despite the delays normally expected in any large infrastructure project, the Panama Canal expansion program continues moving forward, having surpassed 71 percent completion. The new lane of traffic along the Panama Canal will double tonnage capacity and allow for the transit of longer, wider and deeper draft vessels with improved economies of scale. Global trade participants are certainly welcoming this. Many ports are getting ready to receive future trade volumes in large vessels, resulting in greater infrastructure investment which will improve the supply chain's resilience and sustainability.
In summary, we expect a more positive 2014 in comparison with 2013, in terms of conditions for global commerce and the health of the shipping industry.
Jorge L. Quijano is administrator and CEO of the Panama Canal Authority.