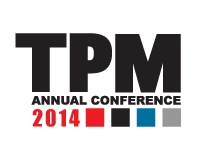 If there's a theme to this year's TPM Conference, it's that 2014 is the year of the game-changer in international logistics. The changes the industry is grappling with as we congregate in Long Beach this week are profound and will define the main challenges confronting shippers, carriers, third-party logistics providers and others possibly for years. This is no ordinary year.
The theme of congestion issues at U.S. seaports, which is certain to dominate discussion at TPM, is a game-changer. So is the formation or expansion of the P3, G6 and CKYHE alliances.
Lengthy truck queues outside terminals at Los Angeles-Long Beach, New York-New Jersey and Norfolk aren't just headlines on JOC.com that will go away when the next story comes along. Shippers complaining about needing four days to retrieve containers after having been unloaded from the ship isn't a one-off experience.
These symptoms reveal the newest and perhaps toughest challenge ports are facing in quite some time. The challenge boils down to ships getting bigger, the number of containers being unloaded and loaded within single port calls rising, and several major U.S. terminals not making or unable to make the investment in technology and equipment to manage spiking volumes.
Add to the mix a void in chassis availability at ports such as Los Angeles-Long Beach and New York-New Jersey because a workable model has yet to replace carriers' gradual withdrawal from providing that equipment. Put on top of that the possibility — suggested in strong January numbers — that container volumes are growing faster because of a recovering U.S. economy, and all of a sudden you have radically new and disruptive scenario for U.S. trade flows moving via container.
Indeed, the problems we're seeing today are showing up without a full-fledged U.S. recovery, feeding the ominous sense — not just at the ports but also in rail and trucking — that, due in part to underinvestment in infrastructure and transportation assets, any breakout on the upside will cripple the transportation system just as it's needed most to grease the wheels of recovery.
A hint of this came last fall during Hurricane Sandy. As New York-New Jersey Port Director Richard Larrabee wrote in the JOC Annual Review and Outlook published in January, "It took four weeks to right the havoc that Sandy wrought on the supply chain, because there was not sufficient capacity in the existing rail, truck and barge arteries to accommodate the relatively minor volume of a one-week disruption in the supply chain."
At the ports, you can point to any number of problems that have led to today's broken system. Among them are that Los Angeles-Long Beach and New York-New Jersey are landlord ports with multiple terminals that compete with each other for the business of carriers that will do anything and everything to save money.
Cost control indeed is carriers' overwhelming focus right now across their businesses, including switching terminals based on a lower rate. Price-cutting among terminals deprives them of the resource to invest in the type of automaton available that could help manage the surge in containers the terminals are seeing.
The problems can be fixed. Europe, for example, isn't seeing these problems. "Solutions can be found because other ports in the world have similar or greater volumes without these kinds of difficulties," said Chris Koch, president and CEO of the World Shipping Council. "The organizational structure and political dynamics of certain U.S. ports may be unique, but solutions should be able to be found."
What we're seeing here is, in a real sense, all part of same story, the same big game-changer. It originates with the container lines, which as an industry are unable to maintain price discipline and for whom the elusive road to profits is now entirely and relentlessly through cost-cutting.
The big ships pressuring seaports are deployed to reduce unit costs for carriers. The alliances are to allow the carriers to deploy only the largest and most cost-efficient ships. The problems stemming from chassis are due to carriers being unable to make chassis profitable. Carriers drive down terminal rates, depriving them of investment, by seeking the lowest-cost terminals. It's like the carrier industry is a black hole sucking everything in.
And that's ultimately the real game-changer coming into great focus this year. The race among carriers to be the last standing, the survivors, by driving costs lower than the competition and thus out-surviving them when rates get battered and slowdowns hit the global economy, has entered a new phase. Carriers' drive to reduce costs is accelerating. No one, be it a terminal, port, shipper, NVO or trucker, will be left unaffected. That is a game-changer. 
Peter Tirschwell is executive vice president/chief content officer at JOC Group. Contact him at ptirschwell@joc.com and follow him at www.twitter.com/petertirschwell.