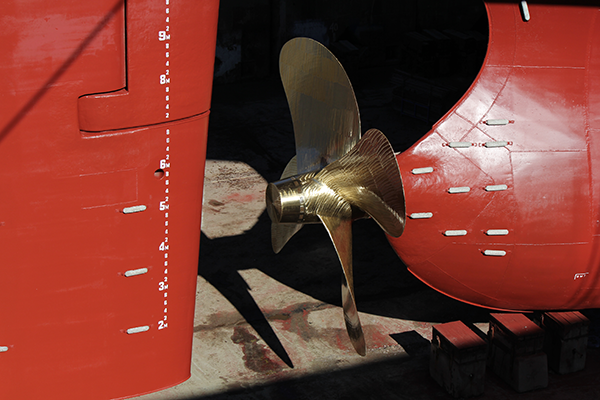 Damen Shiprepair & Conversion has developed a new innovative product, the 'Quick Docking/Fuel Saving' package. This offers owners a fast and low-cost additional docking with the sole aim of reducing fuel consumption in between the five-year statutory survey period.
The first vessel booked under the new concept has docked at Damen Shiprepair Brest (France). It is the capesize bulker 'Castillo De Catoira' operated by Spanish company Empresa Naviera Elcano. Damen expects to bring more of its vessels to its ship repair yards.
Jos Goris, Managing Director of Damen Shiprepair Brest and initiator of the concept, comments: "We know that hull resistance builds up during years of service and this can have a significant impact on performance and consequently, fuel costs. By introducing this product, we are thinking along with our customers and know that fuel costs are a major consideration for shipowners and charterers, especially in this economic climate."
Mr Kees Jan Groen, Commercial Director Damen Shiprepair & Conversion adds: "Charterers are focusing more and more on vessel performance and its impact on fuel consumption. Owners can add value by ensuring the vessel is performing in accordance with the chartering agreement and Damen can add value and help our clients perform better."
Quick Docking characteristics
Under the package, anti-fouling and fresh coatings are applied to improve hull performance, propellers are given a super high polish and the yard fine-tunes the main engine. "Inside and out, everything is optimised for efficient fuel consumption. By improving the engine and propulsion line and applying coatings, the vessel's performance is improved considerably, said Mr. Goris."
Damen expects the fuel saving docking – which can take as little as a few days – to pay for itself within six to eight months depending on the type and size of the vessel. The package is provided on a lump sum basis.
The 'Quick Docking/ Fuel Saving' package can be executed at any of Damen Shiprepair & Conversion yards, which boasts 40 dry docks throughout Northwest Europe. "We aim to provide new and innovative services for shipowners and managers which can help them add value for their clients," says Mr Goris.
Damen Shiprepair & Conversion is developing more value added 'Quick Docking' services to be introduced shortly.
Damen Shipyards Group
Damen Shipyards Group (est. 1927) operates more than 55 shipyards, repair yards and related companies worldwide. Damen employs 8,000 people in 35 countries, has delivered over 5,000 vessels since 1969 and delivers some 150 vessels annually to worldwide customers. Based on its unique, standardised ship-design concept and short delivery times, Damen is able to guarantee consistent quality.
Damen's focus on standardisation, modular construction and keeping vessels in stock leads to short delivery times, low 'total cost of ownership', high resale value, proven technology and reliable performance. Damen offers a wide range of products, including: tugs, workboats, patrol vessels, high speed craft, cargo vessels, dredgers, offshore support vessels, oil-spill response vessels, frigates and super yachts. For nearly all vessel types Damen offers a broad range of Services, such as Lifecycle Maintenance Services, Customer Finance, Training and transfer of (shipbuilding) knowledge.
In addition to ship design and shipbuilding, Damen Shiprepair & Conversion offers a network of 16 ship repair & conversion yards worldwide, most of which are conveniently located along the North Sea coast from Brest (France) to Gothenburg (Sweden). DS&C operates 40 dry docks of all types and sizes and offers onsite/onboard repair services. Conversion projects range from updating smaller or older vessels to today's requirements to the complete conversion or rebuilding of large jack-up rigs. DS&C handles 1,500 repair and maintenance jobs annually.