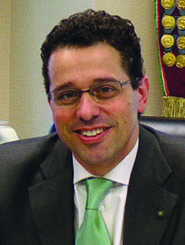 Certainly, everyone is keeping a watchful eye on the new P3 Network alliance expected to launch in mid-year 2014. There is much speculation about the big changes this will bring to our industry, yet with regulatory approval still pending, it is too soon to speak about this multicarrier, multicountry venture.
However, there are other significant issues that, in my opinion, will impact our industry this year. I will focus on three of them:
First, there is the redistribution of power and wealth among world countries that has accelerated in the past number of months and will continue even stronger in the coming year. This reshaping of the world economic  order will impact financial, political and commercial interests, which, in turn, will produce changes in cargo sourcing, volume trading between countries, and shifts in the directionality of global trade and investment.  
A second influential factor will be the International Longshore and Warehouse Union contract negotiations scheduled to commence this spring on the U.S. West Coast. The existing contract expires June 30, and while the 2014 contract talks are not expected to be as contentious as negotiations were in 2002 and 2008, there are jurisdictional issues at play that will be important for us to watch.
Finally, there is a migration under way of businesses and people within U.S. states for various economic and regulatory reasons, and at the same time, a growing trend in re-shoring overseas manufacturing back to the United States. These developments have the potential to change the value of certain ports, and to impact equipment availability.
Companies must keep these three issues in mind in order to plan and adapt successfully to the changes they will inevitably bring. 
Claudio Bozzo is President and CEO of Mediterranean Shipping Co. (USA).