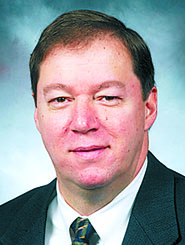 As we look to the next year, there are many exciting developments, new capabilities and supply chain improvements that are evolving because of better industry collaboration and partnership. By clearly defining joint objectives and what needs to be accomplished, our industry can engage in more effective, innovative ways of working with customers and supply chain partners. 
We can pave a new path to success by doing things differently. As an example, consider the fundamental, costly challenge of equipment imbalance in the U.S. This imbalance results in considerable time and resources. If the equipment needs of exporters could be matched with importer empties, a more efficient, environmentally friendly result would be possible. This can be accomplished through collaboration. We are doing it today, making match-back opportunities happen.
When it comes to carrier-shipper relationships, collaborative partnerships create a win-win situation for both. While carriers contend with the need to control costs and optimize their networks, shippers call for greater reliability and responsiveness. How do these varied needs merge to create a successful partnership for each? By establishing relationships based on trust, open communication and accountability, each party can achieve its goals and relevant supply chain solutions can be developed that add new value and efficiency. 
Michael J. White is President and CEO of Maersk Line North America.