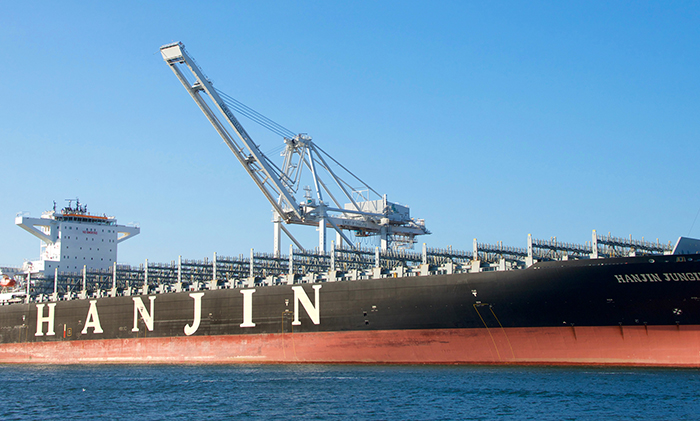 NEWARK, New Jersey — A Hanjin Shipping attorney told a federal court Tuesday that it has virtually no assets in the United States to compensate several retailers, logistics providers, insurance companies and other claimants who fear the loss of claim rights if the court recognizes the carriers' South Korean bankruptcy case.
The claimants, in papers filed in U.S. District Bankruptcy court in New Jersey fear that their rights will be impaired, or lost if the court approves Hanjin's  request for Chapter 15 status. Approval would mean U.S. bankruptcy courts recognize the Korean bankruptcy proceeding, enabling the carrier to take certain actions in the U.S. to assist the case overseas.
But a hearing Tuesday, which was scheduled to hear the case, was adjourned after Hanjin attorneys said eight objections had been filed, more than expected, and they needed additional time to prepare for them. The objections will now  be heard Dec. 13.
Hanjin attorney Ilana Volkov, of New Jersey, told Judge John K. Sherwood that Hanjin has virtually no assets available in the U.S. to pay claimants anyway, except for a property in Paramus, New Jersey, which is fully mortgaged, a few accounts receivables and some interest payments.
"If we are talking liquid assets in United States, I am happy to tell the court there are none," she said. In a sign of the paucity of funds, she offered to put $10,000 – the only accounts receivable available — into an escrow account for eventual payment to fuel company Ocean Connect Marine if a court concludes that is necessary.
Ocean Connect claims that it is owed money for fuel provided to the Seaspan Efficiency, which was under charter to Hanjin at the time. Ocean Connect's attorney said the company is owed about $820,000 by Hanjin.
The claimants' objections in general do not seek to derail Hanjin's Chapter 15 plan, but to modify it to protect their right to make claims in the U.S., which they say they are entitled to do under Korean law. Volkov did not offer a detailed rebuttal to the claims, but explained that the carrier's attorneys say they do not believe the proposal would impair claimant's rights.
Court papers objecting to the plan have been filed by Wal-Mart and Bissell Homecare, the Michigan vacuum cleaner and floor care product manufacturer. Other objectors include  SeaCube Containers, of California, Trac Intermodal, of New Jersey, and two insurance companies - Continental Insurance Company and Continental Casualty Company, both of Chicago.
Terminal Investment Ltd., Hanjin's partner in a company that operates two US terminals, argues that the investor's right to acquire the assets of the joint company if the carrier wants to sell could be hurt if the US court backs the Hanjin plan.
Hanjin filed for bankruptcy in a South Korean court on Aug. 31, and two days later filed for Chapter 15 status in the US. The status conveys a series of benefits to a company that has filed a foreign bankruptcy, said Craig Martin, a Wilmington, Delaware bankruptcy attorney who co-wrote a book on Chapter 15 cases published by the American Bankruptcy Institute. Once it is granted, the company in bankruptcy is granted protection from its U.S. assets being seized by creditors without court approval, he said.
In addition, the status enables the foreign representative of the company in bankruptcy to take possession of assets in the U.S., conduct discovery procedures, examine witnesses and also sell company assets that are located in the U.S., Martin said.
Most Chapter 15 requests are accepted by the courts, Martin said, adding that studies show 85 to 90 percent of requests are granted. "Most people who file chapter 15 understand what the law says, and they don't file it if they don't think they are going to be recognized," he said.