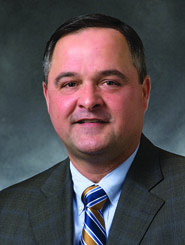 2014 will move us ever closer to the challenges of the post-Panama era. As the Panama expansion draws nearer and as vessel-sharing alliances continue to evolve, ports on the U.S. East Coast will need to further define these challenges and agree on innovative solutions. I believe without exception, that ports that in the end are selected for post-Panama vessel strings cannot operate with the same constraints and processes that exist today. Predictability will need to be established for and by all parties in the supply chain to reap the benefits that everyone expects from the future economies of scale.
Whether you're in a major metropolitan area or a remote operating location, the challenge of vessels potentially receiving and discharging twice the volume of cargo in a narrow window needs to be planned. How will this cargo be received and delivered through the traditional narrow gate windows? How will the surrounding port infrastructure absorb the flow of freight being turned on and off, fed like a fire hose rather than a garden hose?
This will impact every party, and the failure of one will impact all others. Will the labor be available? How will the truck community integrate the hours of service regulations, the demand and the impact on their resources? Can roads be shared with daily commuters? Will chassis be available and will warehouses be able to accept the peaks and valleys of freight? We'll also need to resolve how best to do all this while being thoughtful of the environment.
These are a lot questions that need to be answered. Fortunately, we have 2014 to collectively brainstorm and implement the solutions, because waiting until 2015 is not an option.
John Nardi is President of the New York Shipping Association