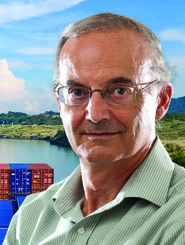 The recent presidential attention to the pending expansion of Panama Canal warrants reassessment of its impact, focusing on three time periods: immediate, roughly the first five years following the expansion or 2015-2020; intermediate, the next five years or 2020-2025; and long term, beyond 2025.
In the immediate period, once the expanded canal opens, ship sizes on All-Water Asia/U.S. East and Gulf Coasts Panama (AWP) services will quickly increase from the current 4,500 TEUs to around 8,000 to 10,000 TEUs, similar to those currently deployed on All-Water Suez (AWS) services. The deployment of larger ships on AWP may reverse its losses to the AWS and the landbridges, but, unfortunately for the ACP, is unlikely to precipitate a "game change." It is also unlikely that it will trigger a change in service patterns, from the current direct calling to a hub and spoke system, considering that similar ships have already been deployed on AWS for several years.
The intermediate period will see the deployment of larger, 13,500-TEU New-Panamax (NPX) ships, for which the expanded Panama Canal is designed, on both AWP and AWS. The deployment of 13,500-TEU ships will therefore trigger a shift from direct calling to hub and spoke. This trend will gain force later on, when ships of 18,000 TEUs, currently deployed on Asia-Europe services, will be deployed on AWS, providing it with a renewed advantage over the AWP.
Future feeder services will be based on foreign hubs in the Caribbean and Canada, where the cost of transshipment is about one-half of U.S. ports and the cost of foreign feeders is about one-half of Jones Act feeders. A soon-to-be-released study by this author found that using U.S. hubs for transshipment is unfeasible even if Jones Act U.S.-built stipulation is waived, posing a challenge to the American Marine Highway program of the U.S. Department of Transportation.
Still, the main goal of this program, relieving coastal-highway congestion, may be achieved since feeder services, employing smaller ships, will call at secondary ports, closer to the cargo's final origin-destination points. 
Asaf Ashar is Professor, Reseach at the National Ports & Waterways Initiative, University of New Orleans.