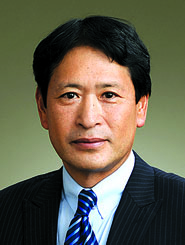 Due to ever-stricter regulations and laws surrounding the reduction of greenhouse gases, sulfur dioxide, nitrogen oxide, etc., there is growing interest in the international shipping world for LNG (liquefied natural gas) as a fuel for ships. It inevitably implies that ports will face the challenge of offering safe storage and bunkering of LNG for shipping lines in ports, and it is in this context that a working group has been set up within the IAPH's environmental initiative known as "World Ports Climate Initiative" to develop and prepare guidelines for safe and secure LNG storage and bunkering operations at ports.
These guidelines will cover bunker checklists and accreditations for safe bunkering of LNG fuel, risk perimeters for safe approach to different scenarios of LNG bunkering and LNG awareness for knowledge sharing among ports in the world. Compared to a conventional bunker fuel, LNG is obviously a clean and cost-competitive fuel meeting the upcoming 2015 IMO regulations.
The Port of Antwerp is leading this working group in which the ports of Amsterdam, Bremen-Bremerhaven, Brunsbüttel, Gothenburg, Hamburg, Le Havre, Los Angeles, Long Beach, Rotterdam, Stockholm and Zeebrugge are represented. The working group also maintains close contacts with industry stakeholders currently using and/or handling LNG, as well as with government agencies and other international organizations with a vested interest in the subject.
It is in this context that IAPH adopted a resolution on LNG fueled ships at its biennial conference in May 2013, at Los Angeles. The resolution can be downloaded at: http://www.iaphworldports.org/LinkClick.aspx?fileticket=skE9G62Gl2s%3d&tabid=4215.
Susumu Naruse is Secretary General of the International Association of Ports and Harbors, LNG Fueled Vessels Working Group