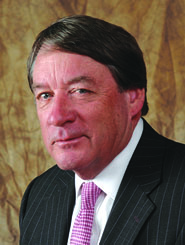 It is that time of year again when we must look into the future and plan for upcoming changes that may affect our industry. In doing so, we must start with a look at the global economy and more specifically the U.S. economy. With U.S. foreign trade hovering at just below $5 trillion per year, with exports of $2.2 trillion and imports of $2.7 trillion, and the fact that the vast majority of this trade is conducted with the use of ocean transportation, it is obvious that with a stronger economy comes stronger foreign trade. In short, the biggest impact on our industry remains to be the need for a steady consistent growth in the U.S. and world economies. 
Beyond the effect the economy will have, there have also been some clear changes in technology and capital improvements that require mentioning as they too are going to create changes in our industry. The "new" Panama Canal is projected to be completed and open its new gates in the near future. This is expected to have some affect on ports of call and possibly alter trade patterns. In addition to the new canal locks, the ever-increasing size of vessels and the need for bigger cranes and larger berths to accommodate these larger vessels will have an effect on ports and trade patterns. 
Finally, we must continue to recognize and adjust for the effects the fuel market has on our industry. Between the steady increase in the cost of crude and the drive for a more "green" environment, the industry has begun to look to fuel alternatives. The use of natural gas as a fuel in oceangoing vessels, assist tugs and brown water push-boats is real, and this change will most certainly have an affect on operating cost.  
Angus R. Cooper II is Chairman and CEO of Cooper/T. Smith.