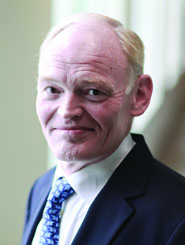 2014 marks another year in which efficient, reliable and cost-effective transportation solutions remain pivotal to world commerce and trade between nations. Plenty of initiatives throughout the transportation chain will drive change. Formation of new alliances and slot agreements in the shipping liner segment, combined with deployment of ever larger vessels, will result in requirements for further upgrades throughout the supporting infrastructure.
Terminals must retool with larger cranes, improve yard and rail capabilities and enhance IT- and automation levels to remain relevant and to deliver increased productivity that larger vessels require. None of this is free.
With operational consolidation on the ocean now a well-established concept through vessel-sharing agreements, alliances and other collaborative efforts, the quest for additional efficiencies will continue, and marine terminal consolidation will be a natural next step.
Oakland is a great example of this trend with proprietary and multiuser marine terminals consolidating into one large multiuser facility, able to deliver scale advantage with 6,000 feet of continuous berths and 10 large STS cranes ready to handle the largest vessels calling at the port. This reduces costs, increases flexibility, and eliminates the need to select one line's terminal over others within the same alliance. Importantly, it also reduces capital requirements to upgrade every terminal for larger vessels, which otherwise would be needed for each liner-operated facility.
Throughout these developments, the overriding requirement for safety for all involved will remain a top priority, along with continued improvements in environmental performance.
With a backdrop of a continued volatile supply-demand outlook for the liner industry and the resulting mixed financial outcome, all stakeholders will need to continue to innovate, improve, eliminate idle cost and cooperate across boundaries to facilitate a strong and viable logistics chain. 
Knud E. Stubkjaer is CEO of Carrix.