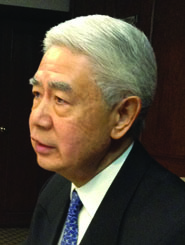 Because of the overcapacity situation, I expect problems in 2014 similar to what we faced in 2013. The market will be very volatile.
Look at the world economy. Europe is recovering but in a weak pace. China is slowing down, while U.S. is picking up. These are the main factors in the world that will affect Asia.
So what will be different in 2014? It will be the P3 decision. If the regulators give green light, then 2014 will be really different.
We just held the annual meeting of the Asian Shippers' Council on Dec. 9, attended by the China Shippers' Association, Hong Kong Shippers' Council, Macau Shipper's Association, Indonesian National Shippers' Council, as well as Sri Lanka Shipper's Council.
We objected to the formation of the P3 Network, which brings together the world's three largest container carriers — Maersk Line, Mediterranean Shipping and CMA CGM — resulting in the biggest concentration of capacity even seen in the history of containerization. The sheer size will give P3 the capability to dictate the direction of the freight market.
As the ball is now in the court of the regulators, we urge them to think long and hard before giving their approval for P3, for it may well be the game changer we do not need. 
John Y. Lu is Chairman of the Asian Shippers' Council.