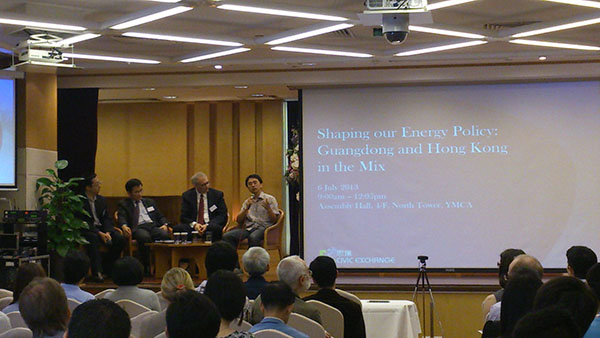 Hong Kong, 9 July 2013 – Civic Exchange hosted its 15th energy forum on 6 July 2013. Entitled Shaping our Energy Policy: Guangdong and Hong Kong in the Mix, the forum invited distinguished speakers and panelists including Dr. Yuan Xu (Chinese University of Hong Kong), Prof. Johnny Chan (City University of Hong Kong), Mr. Michael Thomas (Independent Power Producers Forum), and Prof. Michael DeGolyer (Hong Kong Transition Project, Hong Kong Baptist University) to share their views on the energy outlook of Guangdong and Hong Kong. More than 80 participants from different sectors attended the forum and they were also invited to complete an onsite survey about their attitudes towards Hong Kong's energy issues.
During the first half of the forum, Dr. Yuan Xu shed lights on Guangdong's energy outlook with respect to national and provincial development policies, energy options, and the Hong Kong-Guangdong energy nexus. He also discussed the future role of coal and the carbon leakage issue. Dr. Xu's insights can be found in his recent report, Guangdong's Energy Outlook in China's Context, co-authored with Dr. Chi-Jen Yang (Duke University) and published by Civic Exchange in June 2013.
Prof. Johnny Chan and Mr. Michael Thomas extended the dialogue to include Hong Kong's future energy mix and the regional challenges during the panel discussion session. They both highlighted the need to consider energy cost, fuel availability, climate change, air quality, and supply-demand side control when Hong Kong people deliberate their energy policy. Energy efficiency was raised a number of times by forum participants. The roles of different sectors of society to enhancing energy literacy and enriching energy policy debates were also discussed.
The second part of the forum featured two presentations on people's attitudes towards Hong Kong's energy issues based on: (a) the onsite survey results; and (b) the public opinion survey commissioned by Civic Exchange and conducted by Hong Kong Transition Project. Both surveys covered areas such as people's knowledge on Hong Kong's energy supply, their concern about the health impacts or accidents of various energy types, their views on affordability, as well as their behaviour in conserving the environment. For the public opinion survey, which is an in-depth and comprehensive research exercise, Prof. Michael DeGolyer presented a number of findings at the forum highlighted below:
1.       On a question about the share of major energy sources in power generation for Hong Kong, more than 50% of the respondents got their answers correct for wind power, solar electric, and solar hot water, whereas less than 20% correctly answered the share of coal, nuclear and natural gas, Hong Kong's three main energy types;
2.       The most trusted information source on energy is the green groups, whereas the least trusted are Government reports or leaflets;
3.       Over 50% of the respondents are not concerned about Hong Kong's energy supply for different uses, such as electricity generation, public and private transport, heating, cooking and water heating;
4.       Frequent internet users are more likely to take action in addressing issues related to energy use; and
5.       When people were asked to rank energy objectives, 36% of the respondents think that the Government should puttop priority on safety, followed by 32% on environmental effects. When asked to rank the least important objective, 35% of the respondents think that the Government should put bottom priority on affordability, and 29% picked security of supply as least important.
Full results of the public opinion survey will be released in September 2013.
Civic Exchange has a longstanding interest in energy issues. More research papers on energy-related issues will be published in the second half of 2013, and the next energy forum will be held on 14 September. Please visithttp://www.civic-exchange.org/wp/energyproject_en/ for updated information about Civic Exchange's energy project. Besides, all the presentations of the 6 July forum are now available for download at the following: http://www.civic-exchange.org/wp/130706energyforum_en/