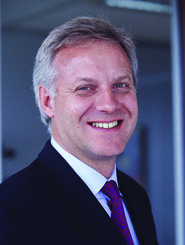 I expect global economic growth to very slightly pick up momentum in 2014; we see early indicators such as PMI's showing economic expansion in many of the largest markets. However, similar to recent years, our freight and forwarding business will still operate in a challenging and volatile market environment.
While we expect air freight to grow modestly after several years of consecutive shrinking, some customers will continue to shift volume from air freight to ocean freight. This has many reasons — more reliable supply chains, better planning capabilities and the continuing cost focus across most industries because of difficult market environment in the last years as well as the introduction of the new generation of Triple E vessels and more reliable scheduled ocean freight services.
Ocean freight, I expect, will grow faster than air but not near the pre-financial crisis level. A crucial point in the development of the ocean market will be the second quarter of 2014, when the container shipping lines Maersk, Mediterranean Shipping and CMA CGM start to operate as the P3 alliance. Most likely this won't result in any significant capacity changes on the Asia-Europe, trans-Atlantic and trans-Pacific trade lanes, but will provide member carriers with better economies of scale than competitors and result in the consolidation of hub ports.
Although the negotiations for a free trade agreement between the U.S. and Europe do not seem to be advancing much for the moment, and the proposed 2014 date might not be met, the project does prompt logistics providers to position themselves accordingly in advance. New opportunities for businesses in both regions and an expected economic growth of at least 1.5 percent for each side would greatly benefit not only economies, but logistics companies, in particular.
From a customer's perspective, cost-effective and flexible supply chains will remain important to stay competitive and deal with shorter product life cycles. Additionally, there will be a continuous focus on the reduction of supply chain complexity, on reliability of supply chains and on increasing transparency across the supply. 
Roger Crook is CEO of DHL Global Forwarding, Freight.