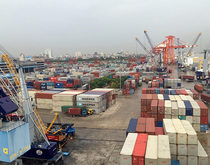 Customs changes could help relieve crippling congestion at the port of Yangon in Myanmar.
After two years of preparations, Nippon Express Co. has set up a subsidiary in Myanmar, formerly called Burma, joining a growing army of Japanese transportation, logistics and other firms aiming to cash in on what is widely seen as Asia's last frontier market.
Singapore-listed Yoma Strategic Holdings will receive a $100 million loan from the Asian Development Bank (ADB) to build up Myanmar's transport and logistics infrastructure urgently needed to create sustainable economic growth.