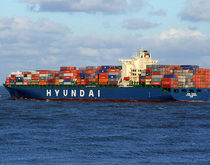 Hyundai Merchant Marine aims to have the largest market share on the Far East-Middle East trade.

A revolution is quietly under way in Saudi Arabia's ports sector, as the first facility to be run outside government control attracts the world's leading shipping alliance, piling pressure on the kingdom's premier west coast port, Jeddah Islamic Port.

Officials at Khalifa bin Salman Port in Hidd, Bahrain, predict a structural shift in the size of the Bahraini cargo market and forecast a dramatic increase in container throughput to 500,000 20-foot-equivalent units this year because of growth in government-led infrastructure and construction schemes.