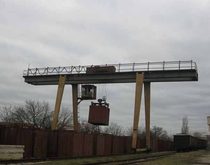 The government of Ukraine plans to significantly reduce tariffs on container shipments via the trans-Caspian international transport route.

The Port of Baku, the oldest and largest port on the Caspian Sea, will complete phase 1 of its new international sea and trade port by 2017, increasing capacity to 11.5 million tons of cargo per year and up to 50,000 containers, many of which could be transshipped between China, Central Asia and Europe.

The latest multimodal option introduced to the One Belt, One Road trade initiative linking China and Europe comes from the Caspian Sea port of Baku in Azerbaijan that this week greeted the arrival of its first block train.
Shippers moving containerized cargo between China and Central Europe and Central Asia can soon tap a new transport corridor connecting China, Kazakhstan and Azerbaijan via rail and a new seaport in the Azeri capital of Baku.