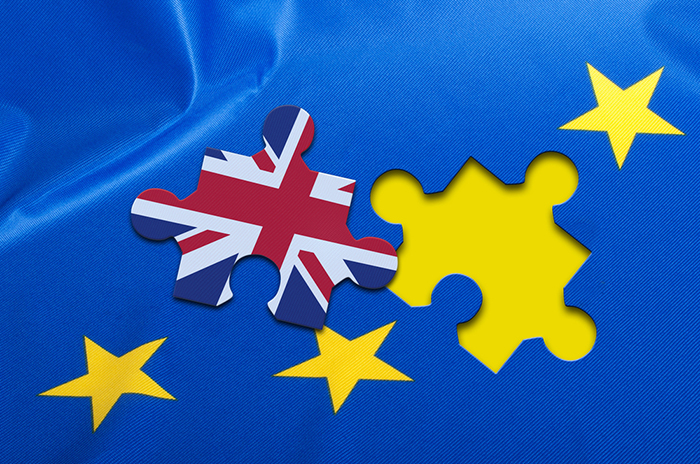 LONDON — The U.K.'s transport sector is on tenterhooks as deeply divided Britons prepare to cast an historic vote Thursday on whether to remain in or leave the European Union after 43 years of membership.
The transport industry has been much less vocal than other sectors — from manufacturing to financial services — that have sounded alarm bells about the impact of a leave vote — or Brexit — victory on Friday morning.  
But transport has more to gain or lose from the result than many businesses as Brexit means the U.K. would have to renegotiate trade deals with the EU and the rest of the world — a lengthy process that could impact sea, land and air freight flows.
Brexit would not lead to immediate changes as the U.K. would have a two-year "grace period" to strike a new relationship with the remaining 27 member nations of the EU.
Trucking faces the biggest potential hit if the U.K. leaves the EU, as the industry relies heavily on European migrants who have visa-free access to the country under the 28-nation single market because it can't recruit sufficient British drivers to keep pace with demand.
Of the 290,000 heavy vehicle drivers in the U.K., some 60,000 are from the EU, mainly Poland and other East European countries, according to the Road Haulage Association.
And without them, the U.K. economy would grind to a halt within days, according to Jack Semple, policy director at the RHA.
"We are facing the worst driver shortage in living memory. If we didn't have skilled foreign drivers to plug the gap during peak times such as Christmas, we would be facing the very real possibility of logistics businesses grinding to a halt," he said in a position paper.
"Their presence reflects long-term underinvestment in U.K. residents to drive in what is an essential U.K. services industry, which has reduced the size and strength of the HGV (Heavy Goods Vehicle) training sector in the U.K."
The industry's biggest problems aren't the result of EU regulations, but British decisions such as high diesel prices and under-investment in roads, according to Semple.
But the majority of members of the RHA, which is officially neutral, are in favor of the U.K. leaving the European Union, according to a survey it published last week.
Sixty percent of respondents said they want to leave, 30 percent want to remain and 10 percent are undecided. A majority of smaller firms want to quit, reflecting their concerns over excessive red tape and unfair competition from foreign truckers, while most of the larger companies operating more than 65 trucks want to stay in the EU.
The immediate impact on the logistics industry of a Brexit would be a widely anticipated slide in the value of sterling against key currencies, including the U.S. dollar. "We are currently in the process of emptying bank accounts of pounds to minimize currency risks," Jens Bjorn Andersen, chief executive officer of Denmark's DSV, said last month after reporting the first-quarter results of the world's fifth-largest freight forwarder.
A weaker pound would impact trade and the volume of traffic passing through U.K. ports because imports, which would become more expensive, account for a larger slice of their business than exports.
U.K. ports dependent on trade with the EU — which takes around 45 percent of the U.K.'s exports and supplies more than 50 percent of its imports — are also anxious about the longer term impact of Brexit.
"Any changes in trading patterns would be especially relevant for U.K. ports, which themselves are responsible for handling around 90 percent of the U.K.'s trade," according to Oxera Consulting.
"Changes to the costs of trade with the EU are likely to affect the volumes and patterns of trade activity at ports, while the need for new customs checks on imports and exports is likely to cause considerable congestion at U.K. and mainland European ports," the U.K. firm said.
Ports like Tilbury near London are most exposed to the threat of customs checks stopping the free flow of cargo through the terminal as some 60 percent of its traffic moves to and from the continent. Currently, around 70 percent of its cargo is unloaded and moved out of the port within four hours.
The U.K. Chamber of Shipping's CEO Guy Platten has expressed fears that lengthy post-Brexit negotiations with the EU could prove "profoundly negative."
A Brexit vote is stirring concern in London's maritime cluster, which is a global market leader in several sectors, accounting for 35 percent of marine insurance premiums and more than a quarter of ship broking revenues, with a 10,000 strong workforce contributing some 4.4 billion pounds ($6.4 billion) annually to the British economy.
The U.K.'s departure from the EU would pose a "grave threat" to the overall London insurance market, according to a joint paper by Lloyd's of London, the International Underwriting Association and Fidelis insurance.
While the U.K. is a major maritime hub and boasts a significant shipping register, it is not home to big name shipping companies. It is largely absent from the container shipping sector compared with Europe, which accounts for four of the world's top six container lines by capacity — Denmark's Maersk Line, second-ranked Mediterranean Shipping Co., which is based in non-EU Switzerland, France's CMA CGM in third place and Germany's Hapag-Lloyd, which will jump to fifth place if it clinches a planned merger with United Arab Shipping Company.
The U.K. waterfront is dominated by outsiders too, with Hong Kong's Hutchison Port Holdings owning Felixstowe, the country's top container hub, and Dubai-based DP World controlling Southampton and London Gateway.
"If Brexit happens it will be detrimental to the U.K. and it will have a negative impact to the whole of Europe," Li ka-Shing, chairman of HPH, said on Bloomberg Television.
Brexit would also impact airlines as the U.K. is excluded from the EU single aviation market created in the 1990s that allows carriers to launch services across the 28-nation bloc. The U.K. would also have to renegotiate a new agreement with Brussels and the bloc's open skies accords with other nations. Willie Walsh, CEO of IAG, which includes British Airways, Ireland's Aer Lingus, and Spanish carriers Iberia and Vueling, has said he does not anticipate any material impact from a Brexit vote.
However, London Heathrow airport, Europe's fourth-largest air freight hub, has strongly backed the Remain campaign. "We are the U.K.'s only hub airport, connecting Britain to over 80 long-haul destinations, and handling over a quarter of U.K. exports — but we recognize that for business to thrive we also need to be part of the single European market," according to CEO John Holland-Kaye.
Contact Bruce Barnard at brucebarnard47@hotmail.com.