The Journal of Commerce's annual Top 100 U.S. Importers and Exporters ranking begins with data from PIERS, a sister product of The Journal of Commerce within IHS, and is enhanced by information gathered from other industry sources.
The figures are expressed in 20-foot-equivalent units, or TEUs, the most common measurement of containerized ocean shipping. One standard 40-foot ocean container equals two TEUs.
These lists are restricted to shippers — beneficial owners of containerized cargo that entered or exited U.S. ports by ocean vessel during 2015. The statistics don't include shippers associations, carriers, non-vessel-operating common carriers, forwarders or brokers, third-party logistics providers, banks, or "to-order" negotiable bills of lading, or data falling under privacy strictures. International import and export cargoes moving into and out of the U.S. via air, rail or truck are not included.
In tandem with last year's ranking and considerable industry research, the list also identifies corporate subsidiaries and strives to reflect any changes in corporate status related to mergers, acquisitions, spinoffs, formal name changes or bankruptcy filings. We also identify the location of corporate headquarters and, if the global headquarters is outside the U.S., the parent company. We indicate a website if one is available and the industry sector, adding a short note about each company, often recent news or an interesting fact.
These rankings represent our best approximation of the total international oceanborne shipments by these companies and their subsidiaries. We welcome your feedback.  
News & Analysis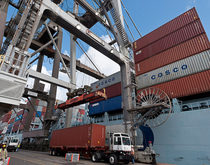 Investment, divestment, mergers and acquisitions mark growth strategy of seven of the JOC's Top 100 Exporters in 2015.