It's not easy to be in the green while being green. That's one of the lessons emerging from The Journal of Commerce Top 100 Importers and Exporters rankings for 2012.
It's been seven years since Wal-Mart and Sam's Club put forth their corporate objective to reduce packaging across supply chains by 5 percent by 2013, and their subsequent metrics for supplier scorecards — the so-called Packing 7 R's: Remove, Reduce, Reuse, Recycle, Renew, Revenue and Read — have trickled down into best practices and brought significant rewards across the industry for cargo interests.
When goods are densely packaged safely, transportation savings accrue in fewer container counts, lower drayage units, lower per-unit freight costs, and more goods in less space in warehousing and distribution centers and on the store shelves.
For ocean carriers, the downside may be more cargo in fewer containers with lower vessel capacity utilization rates.
So, is it accurate to compare container cargo liftings growth over the last several years without considering such stowage and packaging factors?
On a volume basis, containerized U.S. imports increased 2.6 percent year-over-year and were 2.3 percent ahead of pre-recession 2008. In contrast, U.S. exports in 2012 inched ahead just 0.4 percent year-over-year, but were 5.7 percent above 2008. While the export trade is leading in cargo growth, the liftings lack the velocity to achieve President Obama goals under the National Export Initiative, which aims to double U.S. exports in the five years through 2014.
America Chung Nam, the top-ranked exporter in 2012 with 414,500 TEUs, extends those "Packing 7 R's" to its inter-company dynamics of supplying recovered paper to its sister company, Nine Dragons Paper Industries, mainland China's largest containerboard manufacturer, which has annual mill capacity of 14 million tons. America Chung Nam also has expanded into plastic recyclables.
Special Coverage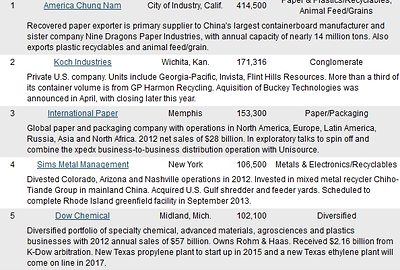 Top 100 exporters in 2012: U.S. foreign trade via ocean container transport.
News & Analysis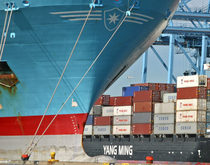 After a strong start in the first part of this decade, the slowdown in export growth means the U.S. will not meet President Obama's goal of doubling exports by 2015 from 2009 levels.
Commentary
Exporting goods and services provides tremendous opportunities for small businesses, yet 99 percent of them don't export because of bureaucracy and uncertainty. Help is available, if you know where to look.