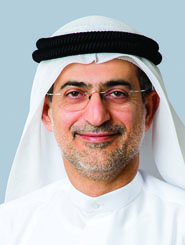 The past year saw our industry steadfastly navigate the global downturn in search of solutions to persisting supply-demand mismatch and opportunities in newer markets. World trade routes are connecting new destinations as emerging economies gain access to international markets and embrace the Global Value Chains (GVCs) that increasingly define the way investments and trade flow today. Up to 80 percent of the US$20 trillion in trade each year is part of these value chains, according to an UNCTAD report, with implications for the industry.
GVCs demand new thinking in the way the supply chain works. By adopting smart technology and sustained innovation, the shipping community can shake off inefficiencies. Port operations are increasingly integrated through smartphones and tablets, a trend that must also find its way across the supply chain. Man and machine working in tandem is the surest way to deliver the level of efficiency that is demanded of our industry.
The arrival of the next generation of mega container vessels has begun an industrywide debate on improving productivity at the berth. While the average size of vessels has doubled in the past two decades, the ultra-large container ships are ushering in a super tier of hub terminals equipped with extra deep quaysides and automated cranes with extended reach.
Mohammed Sharaf is Group CEO of DP World.