Central America carriers, terminal operators seek to cash in on Panama Canal momentum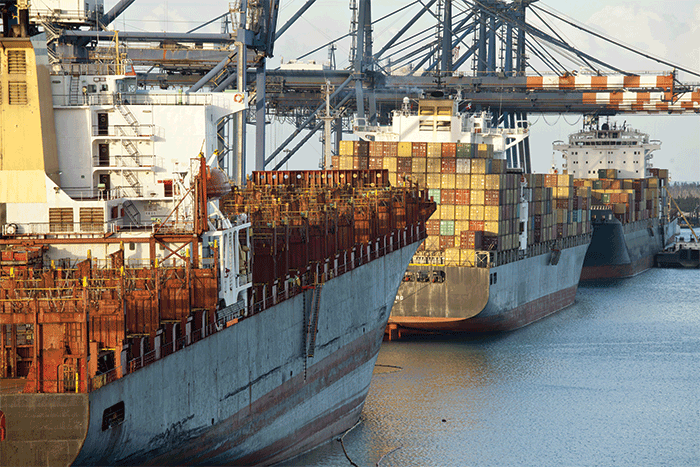 When the Panama Canal opens its new locks to larger post-Panamax ships next year, the six countries of Central America will gain better access to growing global markets for their exports of food products and fresh produce in addition to their traditional markets in the Americas.
The advent of larger ships and more global shipping services will give Central American producers of coffee and fresh fruit access to markets in Europe and Asia that have relied on south-to-north sources in their own hemispheres. Regional manufacturers, too, will get enhanced transportation links to their overseas markets. Ocean carriers, terminal operators and global shippers are gearing up for market expansions.
"When the new Panama locks do open, the carriers that are using the Suez Canal for anything north of Yantian (China), will look at changing over to the Panama Canal, because they can save time and two ships (per loop)," said Craig Mygatt, CEO of SeaLand, the famous brand name that Maersk Line revived last year to serve the Americas trades. "This means more transshipment in the region, and we'll have the possibility of carrying that volume to its final destinations. When it came through Suez, we didn't have a shot at it."
Unlike the rest of Latin America, where economies have been hit hard by the decline in Chinese demand for various commodity exports, the economies of the six states of Central America are much more closely aligned with Mexico, the U.S. and Canada, and demand for their commodity exports has remained strong. Growth has been steady, if not spectacular.
That could change. Over the next decade, global demand for Central American exports of fresh produce will be fueled by water shortages in other traditional sources of supply and by the rapid expansion of middle-class consumers in Asia.
"There is strong demand for fresh produce in a country like China, which has a burgeoning middle class," said Thomas Eskesen, founder of Eskesen Advisory in Copenhagen and former vice president, head of reefer and special cargo at Maersk Line.
Multinational food companies have been preparing for years to fulfill the growth of global demand by investing in agricultural production in several Central American countries. "Foreign investors are looking at getting closer to their farm sources," Eskesen said. "Even those companies that have heretofore relied on their brands, like Dole and Del Monte, realize they need to get closer to the farms that grow their fruit, if not owning the farms, then signing long-term agreements that guarantee production quantities and qualities."
Costa Rica is currently the world's largest exporter of pineapples, and the third-largest exporter of bananas, and a large provider of sugar, coffee and beef. Costa Rica's exports totaled $11.75 billion in 2014, with the U.S. its largest export market, the destination of nearly 40 percent of all Costa Rican exports.
Del Monte invested $403 million to buy the large Caribana estate in Costa Rica years ago that produces pineapple and bananas. It also has built greenhouses to grow tomatoes year-round in Jalapa, Guatemala, halfway between Port Santo Tomas on the Atlantic coast and Port Queztal on the Pacific. Chiquita Brands and the Guatemalan government invested more than $30 million last year to expand and renovate facilities at Terminal Ferroviaria de Puerto Barrios, Guatemala. Chiquita, through its Guatemalan subsidiary COBIGUA, is the largest exporter of Guatemalan bananas and plantains. Chiquita Brands and Dole both grow bananas on their own farms and source fruit from independent producers in Costa Rica, Guatemala and Honduras.
Fresh produce brands aren't the only foreign investors preparing for the growth in Central American trade. APM Terminals broke ground in March on the first of three construction phases for a $1 billion container terminal at Puerto Moin, on Costa Rica's Caribbean coast. The first stage, which will open in February 2018, will have annual capacity of 1.3 million 20-foot-equivalent container units.
Dredging is underway to deepen the access channel and turning basin to 52.5 feet. Other projects include the construction of a 1.5-kilometer breakwater with a 100-acre container yard, almost 5,000 feet of quay and two berths equipped with six post-Panamax cranes.
Development of the second stage, which will depend on growth in demand in the next five years, will give the terminal annual capacity of 2.5 million TEUs and a depth of 59 feet. Under its concession with the Costa Rican government, APMT committed to building a stage three at the terminal, which will give it the capacity to handle the growth of cargo volumes expected through 2060.
"The deeper draft, which is not common in Central America, will allow us to handle bigger vessels coming through the new Panama locks and will facilitate the consolidation of services, so carriers can call with one vessel each week rather than the three they are using now," said Kenneth Waugh, managing director of APM Terminal Moin.
Terminals in Panama's ports of Colon and Manzanillo currently handle most of the transshipments from inbound ships from Asia for destinations throughout Central America and Mexico. The new terminal's deeper draft will attract the bigger ships of up to 11,000 TEUs — about twice the size of today's Panamax-size vessels — that will be able to transit the canal's new locks and transship cargo there bound for northern Central America.
Costa Rica has built a new highway called the Northern Corridor that will expedite transportation of truckborne cargo to Nicaragua. Waugh expects transshipment volume to account for about
10 percent of the terminal's total volumes, but the vast majority of the volume will consist of the direct import-export trade.
When it opens, the new terminal will be able to handle more than the current 1.1 million-TEU volume of the existing Moin terminal across the bay from the new terminal. The old terminal uses mobile harbor cranes, which Waugh called "extremely inefficient."
The new terminal will be certified under U.S. Customs' Container Service Initiative program, under which it will share scanning and inspection with U.S. Customs and Border Protection. This will make it attractive to U.S. importers, Waugh said.
Costa Rica ranks as the world's largest single exporter of pineapples and the second-largest exporter of bananas after Ecuador. Yet the country has some of the worst port infrastructure in Latin America. The new APMT Moin terminal will change that. It will specialize in the reefer trade, including other food products such as the off-season vegetables and plantains that Costa Rica exports to the U.S. APMT plans to allocate 60 to 70 percent of the terminal to refrigerated storage capacity to accommodate expected growth.
Waugh also expects the terminal to attract higher-value containerized cargoes, such as the leather car seats Costa Rica is producing for export to General Motors plants in the U.S. and exports of medical devices by such companies as Boston Scientific, which is producing them in Costa Rica. "When we open the doors, we expect to see a lot of exports by the new manufacturing plants that are opening on the Atlantic coast," he said.
APM Terminals also is taking over operation of a new container terminal being built in Puerto Quetzal on Guatemala's Pacific coast as part of its recent acquisition of Spain's Grup Maritim TCB and its 11 container terminals. The new Guatemala terminal is expected to open next year.  
Contact Peter T. Leach at peter.leach@ihs.com and follow him on Twitter: @petertleach.
User login