AlixPartners Warns Some Ocean Carriers Face Bankruptcy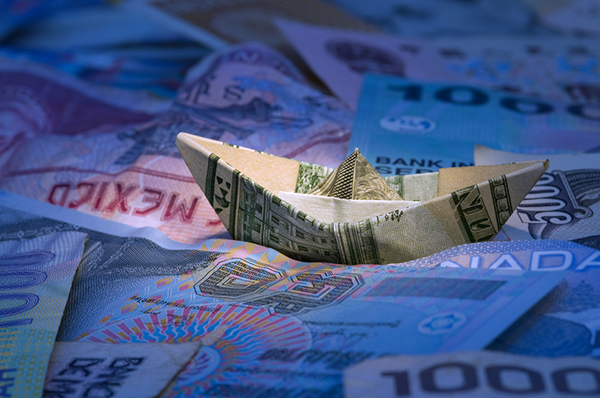 Some container lines have taken on so much debt in recent years to order new, more efficient mega-ships that they are now in a struggle for survival.
The global container shipping industry as a whole face a greater risk of financial distress, including possible bankruptcy, than at any time since 2010, and that risk has grown in each of the past three years, says a new study by industry consultancy AlixPartners.
"Carrier debt has been growing at a constant and significant rate, at the same time as their cash flow is not growing at the same pace," said Esben Christensen, director of global maritime practice at AlixPartners. "Over time, there is less and less cash to pay the interest on the growing debt, which is unsustainable in the longer run."
Carriers' growing debt burden is exacerbated by the mounting overcapacity of vessel space and lackluster global demand, which have led to falling freight rates and thus less cash flow. "We don't seem to get out of the downturn in the rate environment that's happened since 2008, with the exception of 2010, when they laid up enough ships to get dramatic increases in rates," Christensen said in an interview with the JOC.
Rates under pressure in 2014
Carriers have been buying time by raising more equity in public markets or negotiating relaxed covenants on their debt to weather the downturn rather than facing up to permanent debt reduction head-on. "The expectation is that cash flow is going to improve within a narrow band of time," Christensen said. But this may not work, because Christensen said that in its work advising shippers on the 2014 contract negotiating season, AlixPartners has seen that carriers are under increasing pressure to fill the growing capacity of the new ships. "I think contract rates on most trades will settle out about where they were last year," he said. We've seen modest reductions on some trades. If I put my carrier hat on, I would be happy to hold my rates from last year."
He said carriers are going into the rate-negotiation season after a difficult fall of 2013 and are having to lower their rosy demand projections for this year. He thinks carriers will be able to negotiate modest contract rate increases on the trans-Pacific, which is faring better than the Asia-Europe trade.
While the formation of the P3 Network and the expansion of the G6 and CKYHE alliances may eventually result in more stable rates and cash flow, "[i]n the near and mid-term, it could have a further negative impact on rates, because as the new vessels get deployed the carriers in P3 and G6 will have to be very aggressive to fill them and their competitors are not going to give up market share without a fight," Christensen said. "We think the industry is on for some choppy seas in the next couple of years."
Financial indicators are deteriorating
In its study of the industry's 15 publicly listed ocean carriers, AlixPartners says the carriers' financial indicators continue to deteriorate.  "It's clear that the market as a whole has suffered over the past year, falling deeper into the risk of severe distress ranges," it said.
While carriers' financial health actually improved in 2013, when the number reporting negative EBITDA (earnings before interest, taxes, depreciation and amortization) fell as compared to 2012, the cash flow available to pay interest on their debt fell to 4.9 percent, less than half the rate it was in 2011 and less than a third of what it was in 2010.
Among the carriers that have reported full-year earnings for 2013, some carriers like Maersk Line earned a good profit, but many carriers look set to do poorly, Christensen said.  "Nevertheless, I think the industry as a whole will probably turn a profit, but I would not expect it to be a significant one, right around the break-even mark." But he said any marginal profitability tends to hide balance sheet issues. "When your balance sheet is growing the way it is for some of these carriers, you have to generate more profits to balance your debt obligations."
Bankruptcies could be beneficial
As a result, the study, "AlixPartners' 2014 Container Shipping Outlook," foresees the possibility that some carriers may have to declare bankruptcy. This does not mean that they will go out of business. "Other industries like the automotive and the airline industries have gone through the same thing carriers are going through at the moment and have derived great benefit by going through bankruptcy because it allowed them to restructure their debt and right-size their balance sheet in an orderly fashion," AlixPartners said.
Bankruptcy could help some carriers address the root cause of some of their issues, including balance sheets that are growing out of phase with earnings. It would also force them to sell some assets, like older ships or container terminals.  "If the process is managed properly, it could be very beneficial because it could get some capacity rationalization and weed out some of the weaker players," Christensen said.
"At the end of the day, if the mismatch between supply and demand is not corrected, some of the carriers will have to make tough choice about whether they want to compete with the big carriers head on, or if they want to restructure by refocusing on some of the niches or regional areas that the big carriers are less focused on."
The possibility of some carriers declaring bankruptcy does not raise the prospect of further mergers, at least not among the largest carriers. "I would be surprised if we had another wave of consolidations," Christensen said. "There will be some consolidation among mid-tier carriers, but not among the mega-carriers."
Contact Peter Leach at pleach@joc.com and follow him on Twitter: @petertleach.
User login