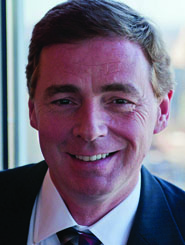 As we approach 2014, there are some shifts in the global market that could trigger significant changes, and some gaps that will create added challenges if not addressed.  
We're beginning to see the impact of a move in global manufacturing and shipping dynamics as costs associated with doing business with China rise. Companies have begun shifting production away from China to other markets, including the U.S., as production and associated costs increase. This is certainly a trend that needs to be followed.
The proposed P3 vessel-sharing alliance of the world's three biggest container ship operators — Maersk, CMA CGM and Mediterranean Shipping — would potentially control more than 40 percent of all cargo in the future. If approved, the alliance is slated to go into effect in early 2014 and could be a game changer for the shipping industry. Questions over the direct and long-term effects remain. The P3 Network could increase efficiencies and drive down operating costs, leading to a more competitive market from a pricing standpoint. Alternatively, there are concerns that pricing will rise due to perceived consolidation.    
Finally, there is growing demand for qualified logistics professionals in the U.S. The lack of educational programs tailored to the logistics industry is making it increasingly challenging to hire and retain a talented work force. While other countries have developed specialized trade education programs, the opportunity remains in the U.S. for similar programs to foster growth in our industry. 
Frank Guenzerodt is President and CEO of Dachser USA.