USA Truck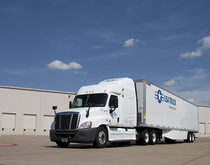 USAT Logistics, the non-asset arm of USA Truck, opens a Mexican subsidiary.

Truckload companies USA Truck and Celadon Group are not waiting for a recovery in the truckload market to materialize and pull them out of the red, instead working to get into the black with a stronger focus on their asset-light brokerage businesses.

The truckload carrier is reducing the size of its company fleet but hopes a pay hike will attract more independent contractors.
John Simone, who as CEO led USA Truck back to profitability after years of losses before taking a medical leave of absence last year, has died at the age of 54 after a battle with lung cancer.