Swift Transportation
Swift Transportation is an American truckload carrier that offers services in intermodal transportation and logistics as well as supply chain solutions. Founded in 1966 with headquarters in Phoenix, Arizona, the company reported 2013 revenue of $4.12 billion, up 3.6 percent year-over-year.
Swift Transportation recently expanded its refrigerated freight business by acquiring Central Refrigerated Service. Swift paid $189 million in cash and assumed $36 million in capital lease obligations to acquire the $453 million temperature-controlled carrier.
Swift Transportation and its primary subsidiaries — Central Refrigerated Service and Swift Intermodal — employ 19,600 individuals and operate a fleet of 18,000 tractors, 57,300 trailers, and 8,700 intermodal containers, making it the largest truckload carrier in the United States.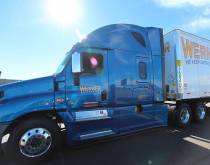 US motor carriers blamed "an oversupply of truckload capacity" for greater-than-expected pressure on earnings in the third quarter.