J.B. Hunt Transport Services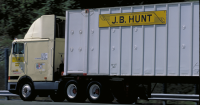 J.B. Hunt started out as a trucking enterprise and has kept to that focus as it serves customers throughout North America from its Lowell, Arkansas, headquarters. It primarily provides trucking and intermodal services in addition to supply chain solutions. The company had its best profit ever in 2013, and it ascended to the Fortune 500 for the first time.
J.B. Hunt has 18,467 employees, located in the 48 contiguous states of the United States. The company reported $5.2 billion in revenue in 2013 due to an increase of 13 percent in loads moved by the intermodal division.
J.B Hunt utilizes customized chassis and trailer equipment. The trailers are designed to be stacked on top of each other when loaded on to rail cars, and the chassis are designed to function only with matching trailers.
J.B. Hunt is No. 3 on the JOC Top 50 Trucking Companies list for 2013, and it also holds the No. 13 spot on JOC's Top 40 Global 3PLs.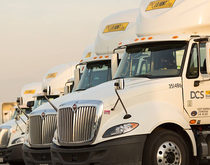 J.B. Hunt's first acquisition in recent memory is neither in the first nor final-mile logistics space.