Heartland Express
Heartland Express is a transportation and logistics services company that offers regional, long haul, and dedicated truckload services to the United States and Canada. Founded in 1978 with headquarters in North Liberty, Iowa, the company reported 2013 revenue of $582 million, up 6.7 percent year-over-year. The company also reported a net income of $70.6 million, up 15 percent from the previous year.
Heartland Express and its subsidiaries employ 5,220 individuals and operate a fleet of approximately 2,400 trucks. The primary industries Heartland serves are retail, manufacturing, automotive, food, paper and plastic, and consumer goods.
Heartland Express, one of the most profitable truckload carriers in the nation, acquired fast-growing Gordon Trucking for $300 million in cash, assets and debt in 2013. The acquisition was expected to give Heartland a more than $400 million revenue boost, with combined total revenue for both companies expected to top $1 billion. GTI's equipment includes approximately 2,000 tractors and 6,500 trailers.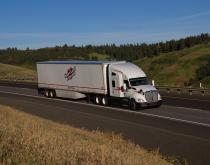 Acquisitions boost revenue, profit for Iowa-based Heartland Express as US freight demand pushes the limits of 'transportation infrastructure.'

The $113 million acquisition of Interstate Distributor will give Heartland greater "depth" in important truck lanes and a roster of experienced drivers.

Werner Enterprises and Heartland Express follow J.B. Hunt in reporting a rise in freight demand as the second quarter gets under way.

Shippers spent more on dedicated trucking and last-mile deliveries last year, benefiting top tier carriers. Will industrial and consumer freight follow in 2017?