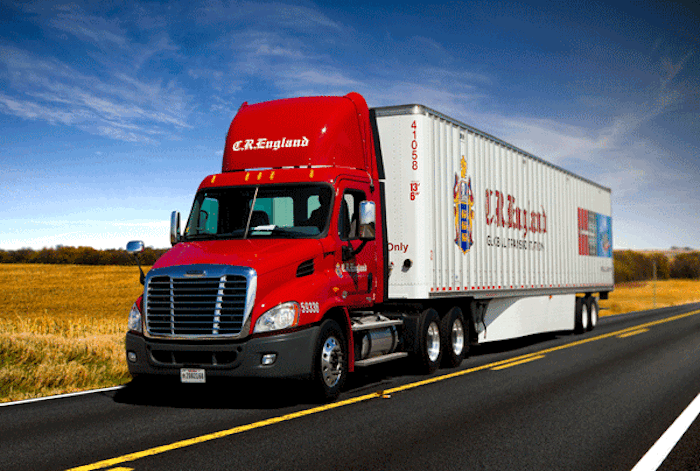 Truckload carrier C.R. England is raising driver pay for the third time since November and the second time in the last 40 days, while offering bonuses to successful driver trainers.
The rapid pay raises and incentives reflect an intense battle among trucking companies to hire, train, seat and keep truck drivers behind the wheel and provide shippers with capacity.
C.R. England, the eighth-largest U.S. truckload carrier, according to SJ Consulting Group, will raise pay for solo truck drivers in its western region 14.1 percent on average this week.
"This pay raise will vary depending on driver tenure, but on average the per driver pay increase equates to 4 cents more per mile," Brandon Harrison, C.R. England chief operating officer, said.
For-hire trucking companies nearly doubled their hiring rate last year, expanding payroll by 46,000 jobs as the U.S. economy improved, according to U.S. Bureau of Labor Statistics data.
The annualized growth rate in trucking employment rose from 1.5 percent in January 2014 to 3.5 percent this January, BLS data show. But carriers still find it hard to find drivers.
Starting last summer, many of the largest U.S. truckload carriers began raising driver pay by double digits, in the general range typified by C.R. England's recent pay increases. Smaller companies are joining the convoy. Fleetmaster Express, a Roanoke, Virginia, carrier with more than 300 trucks, is raising pay for over-the-road drivers more than 10 percent.
Other C.R. England drivers will receive pay increases as well, in addition to higher detention pay, holiday pay and improved retirement benefits, said Travis Smith, the carrier's chief operating officer.
But trucking companies have long found that unless recruiters choose the right drivers and have a stake in their success, many new hires jump to another company within months or weeks. The annualized driver turnover or churn rate at large truckload carriers rose one point to 97 percent in the third quarter last year, according to the American Trucking Associations.
That's the same rate as in the same quarter of 2013, and the 11th consecutive quarter the turnover rate has been above 90 percent at large trucking companies, the ATA said.
That's why C.R. England is rolling out incentive bonuses to its employee drivers and independent contractor trainers in its dedicated and long-haul over-the-road divisions. At C.R. England, each driver apprentice who is successfully trained will become a member of a trainer's network of drivers. The trainer will make one cent for every mile the apprentice drives.
Trainers will be paid a flat rate for apprentices who move into local or intermodal driving positions, or who are not paid per mile, as long as the driver is active 14 days each month. That's an incentive for trainers to remain involved in the career of new recruits as they move from being apprentices to full-fledged drivers, and not just supply warm bodies for truck seats.
Contact William B. Cassidy at wcassidy@joc.com and follow him on Twitter: @wbcassidy_joc.