JOC Staff | Jan 31, 2014 7:49PM EST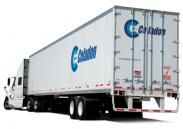 Celadon Group reported its net income in the second quarter of fiscal year 2014, which ended Dec. 31, 2013, was $5.1 million, plummeting 30.5 percent year-over-year from $7.4 million, marking the fourth consecutive quarter of double-digit profit declines.
Celadon's earnings per share of $0.22 in the second quarter dropped 31 percent year-over-year and were down 12 percent from analysts' consensus estimates of $0.25, according to Stifel Transportation & Logistics Research Group.
However, quarterly revenue for the North American motor carrier, No. 35 on JOC's list of the Top 50 Trucking Companies, jumped 34.6 percent to $157.2 million, from $116.8 million in the same period in the previous year.
Average revenue per tractor per week increased $65, or 2.3 percent, to $2,880 in the second quarter, from $2,815 in the same quarter in the previous year, and average revenue per loaded mile increased to $1.63 per mile, from $1.57 per mile.
"Average miles per seated truck remained flat at 2,014 during the quarter, indicating that the company still has significant room for asset utilization and revenue productivity improvement in [calendar year 2014] and beyond," Stifel said in a written statement.
The increase in average seated tractor count of 720, or 26.7 percent, to 3,418 in the second quarter, compared with 2,698 in the second quarter of fiscal year 2013, was a "significant" operating metric improvement that resulted in increased revenue for the quarter, driven by expanding recruiting efforts and acquisitions over the past year, said Paul Will, president and CEO, in a written statement.
The best two parts of the quarter were the increase in seated trucks and the increase in the rate per loaded mile, according to BB&T Capital Markets.
In the quarter, Celadon agreed to acquire selected assets of N. Yanke Transfer Limited. The company also completed its acquisition of Osborn Transportation, based in Rainbow City, Ala., during the quarter.  
"Operations, maintenance and fuel expenses increased primarily due to older equipment associated with our most recent acquisitions, which will be somewhat alleviated in future periods when those assets are refreshed in a similar fashion to the remaining Celadon fleet," Will noted.
The company's adjusted operating ratio unfavorably increased from 89.2 percent in the second quarter of fiscal year 2013 to 94.3 percent in the second quarter of fiscal year 2014, chiefly because of older equipment added to its fleet from its acquisitions, Stifel said. The average age of Celadon's tractor fleet was 1.7 years as of December 2013, and the average age of its trailer fleet was 2.4 years.
"Our primary focus over the past year has been to expand our service offerings to our customers and grow our capacity of seated tractors, which has resulted in freight revenue growth for the December 2013 quarter of approximately 35 percent over the December 2012 quarter," Will said. "This growth strategy should position Celadon to better serve our customers now and especially in the near future as we believe truck capacity will continue to tighten for the truckload industry."
For the six months ending Dec. 31, 2013, net income dropped 25.0 percent to $11.7 million, from $15.6 million in the same period in the previous year. Revenue in the first half of fiscal year 2014 was $368.7 million, up 22.3 percent from $301.4 million.