Saia
Saia is an American LTL carrier that offers regional and interregional LTL, non-asset truckload service, and third-party logistics. Founded in 1924 with headquarters in Johns Creek, Georgia, the company reported 2013 revenue of $1.14 billion, up 3.7 percent year-over-year. The company also recorded net income of $43.63 million, up 36 percent from the previous year's net income of $32.05 million.
Saia and its subsidiaries — LTL Freight, Truckload Plus, and Logistics Services — employ 8,000 individuals and provide services to all 50 states as well as Canada, Mexico, and Puerto Rico. The truckload carrier has a network of 147 terminals across North America and delivers more than 25,000 daily shipments.
Saia — the 10th largest LTL trucking company — had a net profit increase of 43 percent for all of 2013 to $43.6 million, and the fourth quarter was the carrier's ninth straight quarter of more than 98 percent on-time service.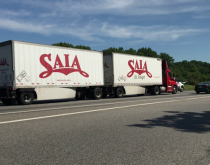 Multiregional LTL carrier Saia generated more revenue, volume, and profit through expansion into the Northeast and in 'legacy' markets.