YRC Worldwide
YRC Worldwide is an American transportation company that offers shipping of industrial, commercial, and retail goods. Founded in 1924 with headquarters in Overland Park, Kansas, the company reported 2013 revenue of $4.86 billion, up 0.3 percent year-over-year. The company also recorded a net loss of $83.6, down from the previous year's net loss of $136.5 million.
YRC Worldwide and its subsidiaries — YRC Freight, YRC Reimer,Reddaway, Holland and New Penn — employ 32,000 individuals worldwide and serve over 200,000 customers, delivering approximately 22 million shipments annually. The transportation company specializes in heavyweight shipments and supply chain solutions through utilizing a fleet of approximately 8,500 tractors and 33,000 trailers.
2013 was the seventh straight year of net losses for YRC Worldwide. Combined, the less-than-truckload operator's annual losses since 2007 total $3.1 billion. However, YRC Worldwide also reported its second consecutive annual operating profit — $28.4 million — following a $24.1 million operating profit in 2012.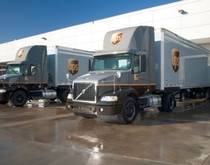 Shippers search for alternate carriers as rank-and-file union members vote on 'last, best' offer from LTL carriers.