Roadrunner Transportation Systems
Roadrunner Transportation Systems is an American transportation and logistics service provider that offers solutions in LTL, truckload and intermodal brokerage, and domestic and international air. Founded in 1984 with headquarters in Cudahy, Wisconsin, the company reported 2013 revenue of $1.36 billion, up 27 percent year-over-year. The company also recorded a $49 million, up 30.5 percent from the previous year's net income of $37.5 million.
Roadrunner made six acquisitions in 2013, with their truckload division now being the greatest contributor to company revenue. The transportation company maintains relations with more than 9,000 third-party carriers, allowing them to service more than 35,000 customers in North America. The truckload carrier employs approximately 2,500 to 5,000 individuals and focuses primarily on small to midsize shippers.
Roadrunner was the fastest growing carrier on the top 50 list in 2013, spending nearly $100,000 million to expand its truckload, intermodal, refrigerated and logistics offerings. With acquisitions collectively contributing $31.6 million in additional fourth-quarter revenue, the truckload carrier plans to continue expansion through 2014.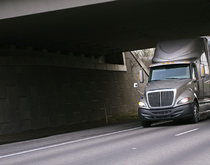 The $95 million sale of cold-chain specialist Unitrans follows months of consolidation and rebranding at the multimodal transport operator.