William B. Cassidy, Senior Editor | Jun 27, 2014 8:21AM EDT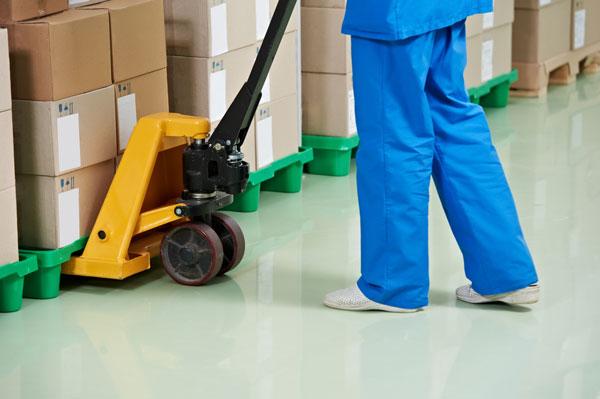 Expedited transportation companies increasingly are focusing on detailed, custom levels of service to the pharmaceutical business. But speed isn't necessarily the most important thing they deliver for drug shippers.
"I would first and foremost challenge the labeling of the service as expedited," said John Dwiggins, life sciences business unit leader at Panther Premium Logistics, a subsidiary of transportation holding company ArcBest.
When working with pharmaceutical shippers, Panther and other expedited carriers put ensuring product integrity, regulatory compliance and shipment security before speed.
"These customers certainly want on-time and expeditious delivery of their freight, but they're most concerned about the temperature and security of their goods," said Virginia Albanese, president and CEO of FedEx Custom Critical. "When you're working in manufacturing, expedited is all about speed. But in the life sciences arena, it's quality of service that's really important, and making sure you do everything you say you're going to do."
"Sometimes, expedited gets kind of fuzzy," said Jeff Woods, senior vice president of logistics at Forward Air. Like his counterparts at other carriers, Woods said security takes precedence with pharmaceuticals, in terms of ensuring product integrity and protecting cargo from thieves. "A lot of customers will require team drivers on a load that will only go 250 to 300 miles," he said. "That's not about hours of service or expediting a shipment, it's about redundancy and mitigating risk by layering on security."
Those layers of security and a philosophy of total supply chain management are the result, in part, of thickening layers of regulation governing the transportation of drugs internationally and within the U.S.
"We've seen a very steady and strong increase in what's required" by the U.S. Food and Drug Administration, Dwiggins said. As far as the FDA is concerned, he said, transportation is part of the manufacturing process, and manufacturers are held liable for the compliance of their transportation suppliers. "There's been a 15 percent increase in cold chain spending over the last two years, because vendors are sparing no expense to provide regulatory compliance."
TOP

5

EXPEDITED CARRIERS IN 2013
2013 Rank
Carrier name
2012 revenue (In millions of dollars)
2013 revenue (In millions of dollars)
Year-over-year percent change
1
FedEx Custom Critical
$393
$390

-0.8%

2
Panther Expedited Services
$194
$209
7.7%
3
Landstar Express America
$137
$131

-4.4%

4
Express-1 (XPO Express)
$94
$102
8.5%
5
Load One
$69
$82
19.2%
TOTAL TOP 5 EXPEDITED CARRIERS
$887
$914
3.1%
Source: Company Reports, SJC Estimates
Prepared by SJ Consulting Group Inc.
Cold Shipping, Hot Market
Global spending on temperature-controlled pharmaceutical shipping will approach $8.4 billion in 2014, up from $7.3 billion in 2012 and $7.5 billion in 2013, according to the Biopharma Cold Chain Sourcebook, published by Pharmaceutical Commerce magazine. Cold chain spending is a small but growing part of a global biopharma logistics market of $55.3 billion. Approximately $5.6 billion of this year's $8.4 billion will go to transportation services and storage, with the remainder spent on packaging — including insulated boxes, blankets and temperature-controlled shipping containers, sensors and other devices.
By 2018, the Sourcebook estimates, spending on commercial cold chain pharmaceutical shipments will hit $10.3 billion, a 37 percent increase from 2013. The Sourcebook attributes that rapid growth to increased use of biologically based drugs and a tighter global regulatory climate for domestic and international drug shipments.
In 2009, according to the Sourcebook, five of the 10 top-selling pharmaceutical products worldwide were biotechnology-derived large molecules requiring temperature-controlled handling and storage. By 2018, that number is expected to climb to seven of the Top 10.
Total consumer biopharma sales will increase 31 percent from 2013 through 2018 to nearly $1.3 trillion. Cold chain product sales will climb 61 percent in that period, to about $307 billion in 2018, with non-cold-chain product sales rising 24 percent to $954 billion.
Pharmaceutical companies "are really looking for end-to-end solutions and buying up the capacity that's out there," Dwiggins said. "Those that stay ahead of regulatory changes will see their businesses grow over the next four years."
Panther entered the life sciences business in 2009, and pharmaceuticals now represent 11 percent of its total revenue, Dwiggins said. "It's all about being able to provide the capacity to handle" the growing business.
Custom Care in Delivering the Goods
In the world of temperature-sensitive biotech drugs, vaccines and other medications, providing capacity isn't as simple as buying a dry van trailer. Refrigerated trailers and containers are needed, for example, and that equipment is increasingly expensive, as well as monitoring and tracking devices capable of detecting changes in temperature, light, vibration, humidity and even elevation, in the case of air freight shipments. But having the right equipment and tools for the job is only the beginning.
"Every time we sit down with a new pharma company, there are different nuances in how they need to ship," Albanese said. "We work with one company whose product needs to be protected from vibration. We've had other customers where there's a possibility of a shortage or theft of a drug — something that has street value — and they're interested in high-end shipment monitoring for security."
FedEx Custom Critical develops a standard operating procedure for each pharmaceutical shipper. "We have an entire team of people who do nothing but review shipments and make sure we adhere to any SOPs that are in place," Albanese said. "This is an area where you have to be constantly improving, reinventing and upping your game."
Many of those SOPs focus on keeping shipment temperatures within an established range, even when the shipment is being transferred from truck to warehouse to truck to aircraft to truck to warehouse to truck to customer. "Once we know the established range of temperature for the goods, we have to make sure there's no deviation outside that range," Albanese said. Any deviation means you can't use the goods. You can either ruin a product, or delay its use until it's been proved to still be effective."
FedEx Custom Critical leverages the FedEx Express global air freight network when possible for international shipments. "We do put some shipments on commercial lift, but only in lanes where the right FedEx equipment isn't available," she said. "You're taking every preventative step possible to make sure thing's don't go wrong."
Forward Thinking on Security
At Forward Air, which last year acquired a specialist in temperature-controlled and high-security life sciences shipping, Michigan-based Total Quality, making sure things don't go wrong "starts from the time the driver enters the truck," said Arnie Hollenbeck, vice president and general manager. "It takes more than a key to start the truck," Hollenbeck said, without providing technical details.
The goal is to make it impossible for a thief to hotwire the tractor. "We're looking at new technology where the truck has a keypad and the driver has to punch in a changeable code to get access to the truck," he said. "We also use steering wheel club locks and Enforcer trailer locks."
Where possible, Forward Air and Total Quality look for technology that can help minimize "the human factor" in transportation, everything from tractor and trailer tracking and shipment monitoring equipment to electronic driver logs to track truck driver hours of service. "The drivers play a key role in all this," Hollenbeck said. "This is not your regular truck driver. They've gone through a lot of orientation, a lot of training to understand our procedures and customer requirements."
Like Dwiggins and Albanese, Hollenbeck stresses the importance of process and procedure in biopharma shipping. Total Quality's procedures are based on standards set by the Transported Assets Protection Association, and the carrier has TAPA Level One certification, he said. "We have two or three customers that have adopted the TAPA standards as their transportation guidelines," Hollenbeck said. "Our customers are trying to push transport providers to meet certain standards and raise the bar."
Hot or Cold, It's All About Temperature Control
That bar will rise steadily in coming years as more products shift from the non-refrigerated pharmaceutical supply chain to the cold chain. That's partly because of a change in the nature of the drugs being shipped, Dwiggins said.
"In the 1990s, you had anti-depressants that were very stable protein strands. Shock and vibration never affected those medications," he said. "Now you're starting to see much more complex manufacturing processes, more time-release capsules. All these things make the shipment more difficult."
Increasingly, regulations require drugs be shipped at consistent temperatures, whether refrigerated or within a moderate "room temperature" temperature range. "The FDA is really going to push us to control those temperatures," Dwiggins said. "We're going to see a big influx of drugs from dry transport to controlled room temperature transport. That's going to put a big strain on the industry."  
Contact William B. Cassidy at wcassidy@joc.com and follow him on Twitter: @wbcassidy_joc.