JOC Staff | Dec 05, 2012 5:46PM EST
The average annualized increase in less-than-truckload yield among public carriers tracked by The Journal of Commerce dropped to 3.5 percent in the third quarter, a sign that falling tonnage is holding back LTL truck rates in the second half of 2012.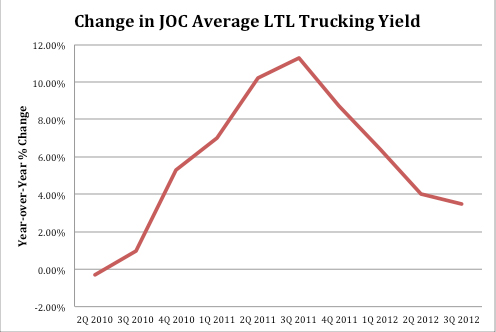 The data confirm that LTL rates, while still rising, are doing so much more slowly on average than a year ago as trucking companies face economic headwinds. The third quarter increase was the lowest since the third quarter of 2010.
The LTL yield data, collected from the quarterly JOC Trucking Dashboard, clearly shows the slowing of an almost two-year average increase in yield among the $19 billion LTL carrier group tracked by the JOC, as yield increases diminished in 2012.
LTL yield or revenue per hundredweight is a measure of pricing, combined with fuel surcharges and additional revenue from greater operating efficiencies. LTL rates were slashed during the recession and rose from a low base in the recovery.
Some of the drop in the year-over-year average yield increase in 2012 is due to tough comparisons with 2011, when LTL carriers made strong gains from 2010. The increase tracked by the JOC peaked in the third quarter of 2011 at 11.3 percent.