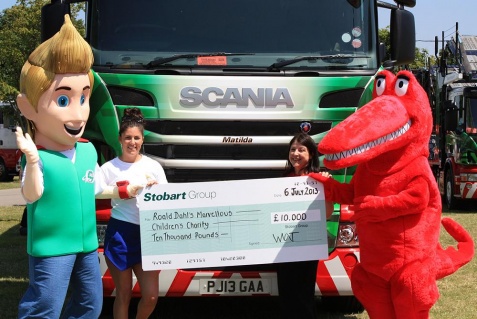 The charity inspired by the nation's best loved children's author has joined forces with the UK's favourite trucking firm to make life better for seriously ill children across the UK. Roald Dahl's Marvellous Children's Charity has linked up with Steady Eddie, a children's character and kids' club inspired and created by Eddie Stobart Limited.
Roald Dahl's Matilda and her school friends were bullied by the loathsome Miss Trunchbull but thanks to a refusal to be beaten and a little bit of magic Matilda was able to make things better for everyone. There are thousands of children and young people in the UK whose daily life is a struggle –because they suffer from serious long-term health problems which can leave them unable to talk, walk and play. Like Matilda, Roald Dahl's Marvellous Children's Charity takes on these problems and helps over ten thousand children a year. And today the charity has announced a new partnership with Steady Eddie to raise £30,000 to make even more of a difference.
Fans of Eddie Stobart will know that every truck has a different girl's name emblazoned on the front. A special lorry named Matilda will hit the road for families to spot over the school holidays. A special competition for eagle eyed spotters launched at Truckfest this weekend and the lucky first prize winner will win four tickets to see "Matilda The Musical" in London with overnight accommodation, as well as the opportunity to name their very own Eddie Stobart truck.
Richard Piper, CEO of Roald Dahl's Marvellous Children's Charity said: "Life can be hard enough struggling to pay the bills and raising a family. It gets even harder – overwhelming in fact - when you are on a restricted income and caring full time for your child who has a serious illness. Having to pay a lot of money for vital specialist equipment such as a wheelchair or sensory toys can push many families into financial crisis.  So that's why one of the things we do is pay for these types of things. Our family grants aren't huge, but they can be life changing, even keeping some families from losing their homes.We are really excited to be working with Eddie Stobart and its Steady Eddie Kids Club. £30,000 will help another 90 families who deserve a helping hand."
Laura Tinkler, Stobart Group retail manager, said: "Spotting Eddie Stobart lorries has traditionally brightened up many long car journeys and the Steady Eddie Kids Club was created to inspire children and make travelling much more fun. We're delighted to have this opportunity to partner with Roald Dahl's Marvellous Children's Charity and support its amazing work."
Eddie Stobart has an official members club with over 25,000 members and its 'Stobart Spotters' track the firm's 2,500 lorries as they make their deliveries across the UK and Ireland. Full details of the competition can be found on the Steady Eddie website:www.steadyeddieworld.com.
For further information about Roald Dahl's Marvellous Children's Charity please contact Richard Piper, CEO on 01494 890 465 or visit www.roalddahlcharity.org