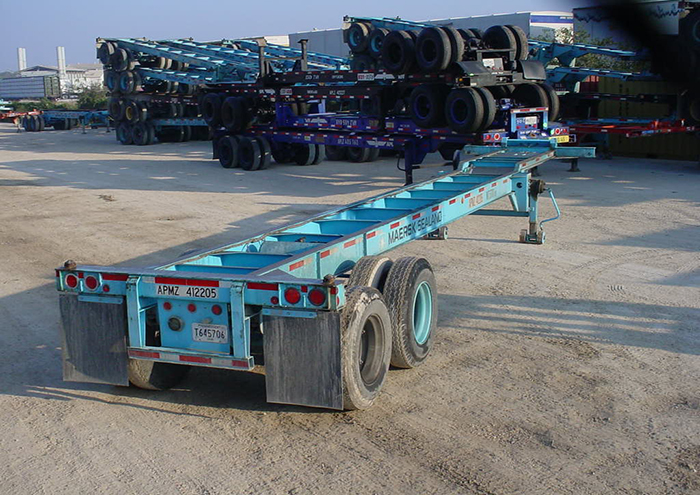 A proposed universal chassis pool at the Port of New York and New Jersey is dead in the water, but chassis lessors haven't given up on the idea, an executive at one of the leasing companies told truckers Thursday.
"We are really at an impasse," Bernard J. Vaughan, executive vice president and chief legal officer at Flexi-Van Leasing, told a forum hosted by the New Jersey Motor Truck Association. "We want to get this back on track."
The pool is designed to provide chassis interoperability, or port-wide sharing of the approximately 30,000 chassis that lessors TRAC Intermodal, Direct ChassisLink Inc. and Flexi-Van now operate in competing pools.
Because truckers can't freely exchange chassis between the pools, drivers often must make extra stops to switch chassis between trips for different customers. Creation of a universal or "gray" pool was among top recommendations of a port performance task force in 2014.
After repeated delays, efforts to form the pool collapsed after TRAC and DCLI refused to sign a labor contract with the International Longshoremen's Association, which is anxious to retain its jurisdiction over chassis maintenance and repair.
The ILA has contracts with container lines, which until the last few years have transferred most of their chassis to the three lessors. Although the lessors use ILA labor to maintain and repair chassis in the port, the union fears future owners could switch to non-ILA contractors.
Vaughan said the lessors have no intention of transferring their M&R to non-ILA labor. He said companies would be foolish to try such a move, because of the disruption it would cause to their businesses.
Flexi-Van operates its own M&R facility and has had contracts with ILA Local 1804-1 since the 1970s. TRAC and DCLI use contractors who employ ILA labor. All three companies have pledged to continue to respect ILA jurisdiction.
Vaughan said the lessors offered to sign an enforceable "commercial agreement" pledging continued exclusive use of ILA labor, but would not sign a union contract, even a proposed "lite" version of a collective bargaining agreement, without the multiemployer pension and benefit obligations of the ILA's regular local contracts.
The lessors have agreed on documents creating a joint venture that would operate as an independent company to manage their chassis in a universal pool, Vaughan said. "But for this labor issue, we're good to go," he said.
The centrally managed New York-New Jersey pool would be different from the chassis-sharing arrangement launched in Los Angeles-Long Beach, where separately managed pools cooperate in a "pool of pools" that allows chassis to be freely exchanged port-wide.
Vaughan said leasing company executives continue to meet with labor and employer representatives to try to win an agreement on a New York-New Jersey pool.
New York Shipping Association President John Nardi, co-chair of the Council on Port Performance, said he wouldn't disagree with Vaughan's assessment of the current state of efforts to launch a universal chassis pool in the port.
But Nardi added, "There's nothing to stop the intermodal equipment providers from coming together and putting a pool together on their own, without a collective bargaining agreement."
Federal Maritime Commissioner William Doyle, who also spoke at the NJMTA forum, urged port interests to find a way to launch the universal pool, which he said is necessary to mitigate congestion and avoid the loss of cargo at the East Coast's largest port.
"For two years now we've been hearing that that we were going to get a gray chassis pool in New York and New Jersey," Doyle said. "We've got to get the chassis pool in place. If you want to keep the ships coming here, you've got to get it together … We've got to get back to the table. Let's get this thing moving."
Contact Joseph Bonney at joseph.bonney@ihs.com and follow him on Twitter: @JosephBonney.