'Cyber' Cargo Crime Called Growing Threat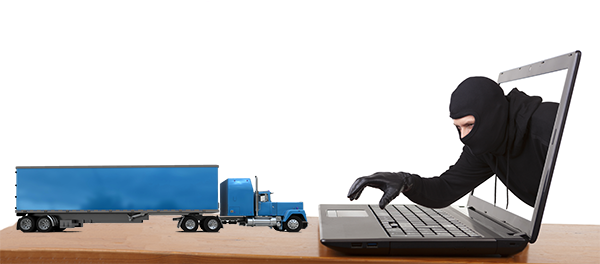 On Friday afternoon, freight needs to move, fast. A shipper, frantic to find a truck, hooks up with a motor carrier on a load board. They agree to terms, and a truck is dispatched to pick up the load. The only problem is that truck isn't from the party that accepted the load. That "company" double-brokered the shipment to a legitimate trucker. The load goes one way, the money goes another, and the motor carrier that delivers the freight winds up with nothing.
Now try this scenario: A trucker shows up at the dock and takes the shipment — straight to the black market. Perhaps the fact the truck driver wouldn't show his CDL when asked or the name painted on his cab door was spelled "ABC Truking" should have tipped off someone this was a fictitious firm using a stolen carrier identity to grab a load of goods.
There must be a million ways to steal a shipment, especially on a Friday, according to Keith Lewis, vice president of operations at CargoNet, a cargo crime tracking and security subsidiary of Verisk Crime Analytics. Everyone else may be working for the weekend, but cargo thieves work all weekend long. Seventy to 75 percent of all cargo thefts occur during the weekend, with Friday being prime time for cargo crime, Lewis said at the 40th annual Transportation & Logistics Council conference March 18.
In 2013, 25 percent of those thefts occurred at a warehouse or distribution center, 20 percent at a truck stop and 18 percent at a parking lot, according to CargoNet. Another 10 percent occurred at what police reports described as "secured" yards. "The famous last words are, 'but I've parked there for years,'" Lewis said. "And if your freight is stolen from a secured yard, guess what — that's not a secured yard."
One way to avoid becoming a victim: change the day you ship. "Why are we shipping on Friday for Monday delivery, when we're only going 300 miles?" asked Lewis, a former law enforcement official with decades of experience with freight and cargo crime — his father once owned a Chicago trucking company. "We take the shipment from our facility, where we've got cameras and gate security, give it to a trucker who drives it to a destination and drops it in a parking lot, and then goes home." By Monday, the trailer or goods are long gone. The theft may occur on Friday night, but it's not reported until Monday, if at all.
"A lot of people don't report cargo theft," Lewis told the approximately 300 shippers, truckers, brokers and transportation attorneys at the T&LC meeting in Nashville, Tenn. "It's embarrassing. Nobody wants to tell the shipper somebody stole from us, or that I have a dishonest dock person stealing big screen televisions. So it just shows up as a shortage and you pay the freight claim and move forward."
Cyber Cargo Theft Rising
That's why Lewis and other security experts believe reported cargo theft is just the tip of an iceberg of illegal activity sapping money from the supply chain — CargoNet's total estimated cost of reported cases of cargo theft in 2011 hit $130 million. The cost of unreported cargo crime could be much higher, but it is very difficult to estimate with accuracy. "We don't have a number, nobody knows," Lewis said.
There is some good news: reports of old-fashioned cargo theft — physical break-ins and stolen trucks or trailers — are dropping, falling from 1,317 incidents in 2011 to 1,090 in 2013, according to CargoNet.
"That's not because we're doing a better job of putting the bad guys in jail," Lewis said, "it's because we're moving from straight-out cargo theft and pilferage to cyber crime. That's the next generation, and what we'll be dealing with over the next 10 years."
Cyber crime is less physically dangerous and demanding than stealing a tractor-trailer, and cyber thieves are harder to catch and much less likely to be arrested and prosecuted, said Lewis.
"Pure straight out cargo theft numbers are going down, because this is much easier," said Lewis. "I can sit in my living room or at Starbucks and use my laptop computer to steal Comchecks from you or steal freight. It depends on how hard I want to work."
And cargo thieves aren't by nature the hardest working criminals on the cell block. Lewis remembers one thief who struck on certain nights, but not others. "We wondered if this guy knew when the interdiction teams were out, or what the state troopers were doing," he said. "We were really scratching our heads." When the thief was finally caught, Lewis asked him why he never stole freight on Tuesdays or Thursdays. "He said, 'I bowl those nights.'"
Fictitious and Fraudulent Pickups
Since 2011, cargo theft by fictitious pickup — a form of identity theft — has jumped 70 percent, climbing from 59 reported incidents to 101 incidents last year, according to CargoNet. Fictitious pickups accounted for 9 percent of reported cargo theft last year, compared with 5 percent in 2011, said Lewis.
CargoNet uses the term "fictitious pickup" to describe crimes where fake identification and even fake businesses are used to steal actual cargo — not just money, as in double-brokering or check scams.
In some cases, a carrier's name and DOT numbers are stolen and used in fake documents.
"They'll pose as a legitimate carrier, or they'll set up a fraudulent company," Lewis said. "Or they'll go back and find a company that went out of business — their certificate is still out there on the Internet, all they have to do is reactivate it. For a few hundred bucks, I can get an MC number and be a trucking company."
In such cases, the theft may take place at a terminal or warehouse, but the crime is facilitated online. Fictitious pickups have increased with the growth of web-based brokerage and are abetted by the use of voice-over-Internet-protocol phones (which can't be traced) and prepaid credit cards purchased at convenience stores. Fictitious carriers also use stolen IDs to get advances for fuel and expenses.
Cargo thieves are preying on shippers, brokers and carriers online because, as bank robber Willie Sutton actually didn't say but should have said about banks, that's where the money is. The amount of shipping done online today is making it easier for criminals to get the information they need and use online tools for cargo crime. "We do business now by e-mail, and the face-to-face transaction is gone," Lewis said. "I've worked with brokers who were so unused to this business they just searched the Internet for trucks." 
'Don't Roll the Dice'
There are several steps shippers, brokers and carriers could take — but too often don't — to prevent cargo theft. For one, Lewis recommends "greater situational awareness" — knowing what's trending in cargo crime and keeping an eye out for fraud. "Look at the door of the truck. Are there are five different names on the door? Check the DOT number. If somebody shows up to pick up a load and they've got a temporary license plate, turn them away."
A lot of crime prevention comes down to better training and strict attention to practices and protocols, such as motor carrier vetting. "I had an intermediary once tell me, 'It's Friday afternoon, I've got to take a chance. Because if I don't get this load, the customer is going to give it to someone else. I'll give it to somebody I don't 100 percent trust and roll the dice.' That's nuts. Don't roll the dice. Follow your protocols," Lewis said.
Some protocols may have to change. Shippers not only should avoid shipping on Friday for a Monday delivery, but need to rethink how they treat truck drivers when they arrive, not just at the security gate but while they're loading and unloading.
"We're going to have to start thinking a little different," Lewis said. "Let drivers sleep on the lot, give them showers, check their fuel, check their logbooks. Don't let them just pick up the load, drive to the truck stop and sleep 10 hours. If they're almost out of hours, or fuel, tell them you're picking up the load tomorrow. We're going to have to start doing things like that."
Contact William B. Cassidy at wcassidy@joc.com and follow him on Twitter: @wbcassidy_joc.
User login