Trans-Pacific Trade
The trans-Pacific ocean shipping market is by far North America's largest trade lane, accounting for nearly 20 million 20-foot-equivalent container units in the U.S. trade alone in 2012.
The market is dominated by imports by large retailers such as Wal-Mart, Target, Best Buy, Home Depot and Lowe's, which, unlike in other markets, tend to contract directly with ocean carriers rather than through forwarders, as is typically the case in the Asia-Europe market. As a result of the one-year contracts that retailers and other large shippers typically sign as of May 1 each year, freight rates in the trans-Pacific eastbound trade tend to be less volatile than in Asia-Europe.
Key developments in the trans-Pacific include the approaching 2015 expansion of the Panama Canal and its potentially huge impact on routing of Asia goods into North America, Canadian West Coast ports' growing success in attracting U.S.-bound cargo, and West Coast ports' expected response to these competitive challenges.
Exports moving to those markets typically are lower-value commodities such as wastepaper and scrap that keep China's manufacturing and packaging industries humming.
News & Analysis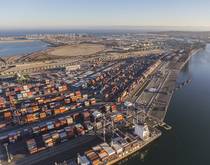 Eastbound trans-Pacific spot rates fell for the fourth straight week.
Commentary
From the vantage point of early December 2018, the current year will be a mixed bag of near disaster, continuing frustrations, and some glimmer of hope; it all depends on your position and perspective.