Technology
In 1952, Malcom McLean successfully tested a new model of shipping and the industry was forever changed. From email and online scheduling to EDI use, one hallmark of the trade and transportation business is its appreciation for innovation. In the last decade, the most quickly adopted have been technology-related changes. Customers are seeking visibility at all stages of the supply chain, and the providers with the most nimble technology are charting the course for the industry's future.
Special Advertorial Section: In Logistics Technology, Partners Needed
News & Analysis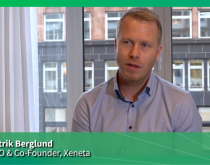 "There's a growing appetite to re-evaluate the buying-selling relationship," in freight contracting, says Xeneta CEO Patr
Commentary
The modern supply chain is complex, global, multi-modal, and full of visibility gaps.