Philadelphia Logistics
The sixth-largest US city by population, Philadelphia is poised to become a center of US logistics thanks to a $300 million improvement program at PhilaPort, which by the end of 2017 will be able to accomodate ships of up to 14,000 TEU.
Podcasts
Special Coverage
US West Coast ports focus on operational improvements.
News & Analysis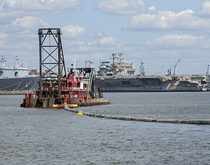 The Port of Philadelphia by the end of the year could be hosting ships of up to 14,400 TEU.