Seeking efficiency and economies of scale, the world's container carriers are increasingly ordering mega-ships capable of handling more than 8,000 20-foot-equivalent container units, especially on the Asia-Europe trade lane. Shippers and carriers looking to reach the North American east coast with these post-Panamax ships must transit the Suez Canal because, as their name implies, they are too big to sail through the Panama Canal. But with Panama's decade-long canal expansion project set for completion in 2015, the giant vessels will be able to add the Panama Canal to their route options. Ports around the world are preparing for the onslaught of these mega-ships, dredging harbors and investing in super-post-Panamax cranes that can reach across 22 or more rows of containers to expedite loading and unloading operations.
News & Analysis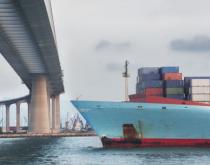 The Port of Hong Kong got a much needed boost in its capacity to handle container mega-ships...
Video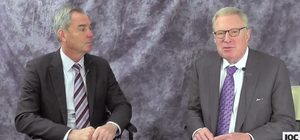 Acting Long Beach Port Director Al Moro talks about the ambitious projects to prepare the port for the big new container ships that are calling there. POLB and private investors are providing billions of dollars to build new rail lines and a huge automated container terminal, as well as to replace the Gerald Desmond Bridge, which is too low for the new ships.