Strikes and demonstrations by dockworkers at the Port of Hong Kong are targeting facilities operated by Hongkong International Terminals, a subsidiary of Hutchison Port HoldingsTrust. HIT operates five terminals in Hong Kong, including Container Terminal 8 East, a joint venture with Cosco.
The dockworkers on May 6 voted to end the strike, which had disrupted operations for six weeks.
News & Analysis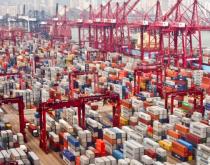 Despite a strong end to 2013, Hong Kong port still saw container volumes contract 3.6 percent year-on-year.