The fallout from last winter's freeze and chain of storms underscores the systemic problems in North America's port drayage infrastructure — problems that are still with us in the second half of 2014.
Congestion and delays at some of the largest North American ports — in particular New York-New Jersey  on the East Coast and Los Angeles-Long Beach in the West — were percolating even before frustration among drayage drivers boiled over at Port Metro Vancouver in February and March in the form of a walkout by union and non-union truckers. 
"Trucker dissatisfaction with marine terminals is not a local phenomenon," Bruce Wargo, president of PierPass, said at the JOC's TPM Conference in March. "It's a symptom of the real problem, which is the traditional delivery process most terminals have in place today."
Those processes haven't noticeably improved. In October, the Los Angeles-Long Beach port complex is reeling from terminal congestion caused by strong cargo volumes, severe chassis dislocations and tardy intermodal rail service.
The drayage business is only complicated by ever-larger ships straining terminals already constricted by the lack of 24/7 operations, a shortage of chassis equipment and truck drivers, and a cost-is-king philosophy among all supply chain interests that equates to no one ponying up the money that could help eliminate the chokepoints.
Some ports are trying to get ahead of the problem, even if they're already behind. New York-New Jersey and Virginia have formed task forces represented by various supply chain interests aimed at finding ways to improve port performance, including drayage issues.
The question is whether any proposals that emerge will be in time to prevent a complete breakdown — and whether all supply chain partners will work together to implement them.
News & Analysis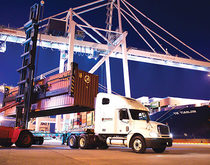 Acquisition of UGL will help nationwide drayage operator build density, add services in Chicago and throughout region.