China Infrastructure News
Primary tabs
China Infrastructure News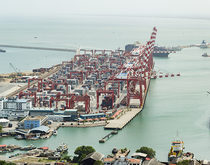 China's Belt and Road is projected to generate an additional $2.5 trillion in global trade over the next 10 years.

The largest and most ambitious global infrastructure project is China's Belt and Road Initiative, and the United States is falling behind.
Draft rules to sharply curb outbound direct investment would impact investment in overseas port and logistics assets under the country's Belt and Road program.