Canada Economy News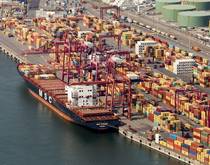 The Comprehensive and Progressive Agreement for Trans-Pacific Partnership, which took effect Dec. 30, will contain 495 million consumers.

The Canadian economy is "humming," an economist says, but can it outrun trade disputes with its largest trading partner?

Canada's economy is expected to pick up steam in 2017, with real GDP growth forecast at 2 percent for the year.

Canadian shippers and the head of Canada's largest port have argued monetizing the country's 18 port authorities could increase port user fees, limit public oversight, and threaten investment in waterside infrastructure.